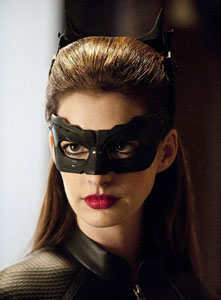 Despite Anne Hathaway having a lot of exciting projects coming up (The Dark Knight Rises, Les Miserables), there is only one question she is consistently asked.  What's it like wearing the Catsuit? 
In an interview with MTV.com, Hathaway spoke about the responsibilities of playing Catwoman.  But the actress is quick to admit that she's not one to complain about the challenges she faces.  "The best?  I'm in Batman," she said.  "That was the best.  The worst, it doesn't matter; I'm in Batman.  Like, this is not the sort of job where you nitpick or find things to complain about.  I was as happy as I've been on anything, on this one, it was 'Count your lucky stars every single day.'"
Hathaway does have some advice for actors who might have to fit into a tiny costume.  "Work with people you trust and they'll take care of you, don't try to please anyone with it," she said.  "Because I think if I had been forced to fit a certain ideal I wouldn't have been able to do it.  But everyone's attitude was, 'Become the character physically,' and then that's the way the suit is meant to look."
The Dark Knight Rises premieres in theaters July 20.