Archaeologists Discover Remains of Shakespeare's Curtain Theatre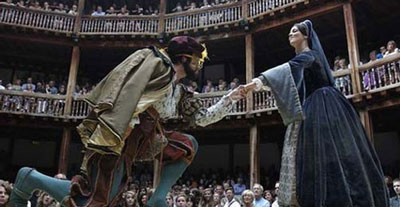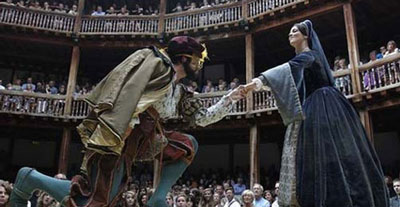 With most of the world's eyes on England because of the Queen's Diamond Jubilee and its associated pageantry, Archaeologists in London have made a very timely discovery relating to one of England's most famous icons, William Shakespeare. 
Historians from the Museum of London claim that part of the gravel yard and gallery walls of the 435-year-old Curtain Theatre in Shoreditch, where several of Shakespeare's plays were first performed (including Henry V, which refers to the Theatre as "this wooden O" in its prologue). 
The theatre originally opened in 1577 as one of England's first playhouses and in 1597 became home to Shakespeare's company Lord Chamberlain's Men until 1599, when the company made the new (and more famous) Globe Theatre its home.  Along with Henry V, it is believed that Romeo and Juliet may have made its debut at the Curtain.  The venue continued until the 1620s, which makes it the longest-lasting theatre of its era.
A full excavation will take place later this year, and hopefully we can learn even more about theatre in the Elizabethan era from the remains.  In the future, the public will be able to visit the site.
via the Associated Press
http://www.dailyactor.com/wp-content/uploads/2016/02/david-harewood-supergirl.jpg
David Harewood on 'Supergirl' and How He Was "Struggling to Get a Handle" on His Character
Harewood reveals how he relates to the character and how he eventually got comfortable playing him.
http://www.dailyactor.com/actors-on-acting/david-harewood-supergirlstruggling-to-get-a-handle-on-his-character/
http://www.dailyactor.com/wp-content/uploads/2016/01/Jeff-Daniels.jpg
Jeff Daniels Remembers a Terrible Audition for a Diane Keaton Movie
One actor that knows the ups and downs of the audition process is Jeff Daniels.
http://www.dailyactor.com/actors-on-acting/jeff-daniels-terrible-audition-diane-keaton-movie/
http://www.dailyactor.com/wp-content/uploads/2016/02/Jennifer-Jason-Leigh-The-Hateful-Eight.jpg
Jennifer Jason Leigh on Her First-Ever Oscar Nomination: "It's kind of phenomenal"
"He knew that I could, in his words, 'act the … out of it' and I'm not afraid to take a risk in terms of acting" Jennifer Jason Leigh on Quentin Tarantino
http://www.dailyactor.com/actors-on-acting/jennifer-jason-leigh-oscar-nomination/
http://www.dailyactor.com/wp-content/uploads/2016/02/Forest-Whitaker-Hughie-Broadway.jpg
Forest Whitaker on Making His Broadway Debut in 'Hughie': "His rhythms are starting to invade inside of me"
"I want to get better as an actor, to keep trying to work harder, trying to discover something different" - Forest Whitaker
http://www.dailyactor.com/actors-on-acting/forest-whitaker-broadway-debut-hughie/
http://www.dailyactor.com/wp-content/uploads/2016/02/alicia-Vikander-Ex-machina.jpg
Alicia Vikander on the Her First Trip to L.A. and the Acting Tip 'Ex-Machina' Director Alex Garland Gave Her
"You [get immersed in] a film and of course you think that that is it. And then you go away and you read a new script and you have a new crush" - Alicia Vikander
http://www.dailyactor.com/actors-on-acting/alicia-vikanderacting-tip-ex-machina-director-alex-garland-gave-her/