Archaeologists Discover Remains of Shakespeare's Curtain Theatre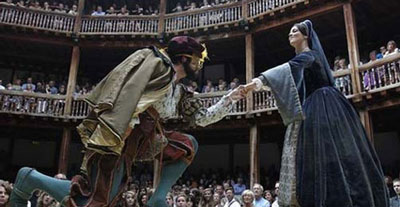 With most of the world's eyes on England because of the Queen's Diamond Jubilee and its associated pageantry, Archaeologists in London have made a very timely discovery relating to one of England's most famous icons, William Shakespeare. 
Historians from the Museum of London claim that part of the gravel yard and gallery walls of the 435-year-old Curtain Theatre in Shoreditch, where several of Shakespeare's plays were first performed (including Henry V, which refers to the Theatre as "this wooden O" in its prologue). 
The theatre originally opened in 1577 as one of England's first playhouses and in 1597 became home to Shakespeare's company Lord Chamberlain's Men until 1599, when the company made the new (and more famous) Globe Theatre its home.  Along with Henry V, it is believed that Romeo and Juliet may have made its debut at the Curtain.  The venue continued until the 1620s, which makes it the longest-lasting theatre of its era.
A full excavation will take place later this year, and hopefully we can learn even more about theatre in the Elizabethan era from the remains.  In the future, the public will be able to visit the site.
via the Associated Press
http://www.dailyactor.com/wp-content/uploads/2015/10/Bridge-of-Spies-Tom-Hanks-Mark-Rylance.jpg
Tom Hanks on Working with Steven Spielberg and Mark Rylance in 'Bridge of Spies'
"Steven does this incredible thing when he casts you: He empowers you with the scene." - Tom Hanks on Steven Spielberg
http://www.dailyactor.com/actors-on-acting/tom-hanks-working-steven-spielberg-mark-rylance-bridge-of-spies/
http://www.dailyactor.com/wp-content/uploads/2015/09/Tom-Hardy-Legend.jpg
Tom Hardy on Playing Twins in 'Legend,' Being Seen as a Tough Guy, and Working with Philip Seymour Hoffman
Hardy speaks about why he challenged himself to play twins, what he thinks of his tough guy image, and working with the late Philip Seymour Hoffman, who directed him on stage.
http://www.dailyactor.com/actors-on-acting/tom-hardy-playing-twins-legend/
http://www.dailyactor.com/wp-content/uploads/2015/09/Emily-Blunt-Sicario.jpg
Emily Blunt on Action Movie Roles: "I think it's important to show different layers. Nobody is just tough, nobody is just vulnerable"
Emily Blunt touches upon why she has gotten into roles with an action bent and why she thinks there aren't more action movies with female leads
http://www.dailyactor.com/actors-on-acting/emily-blunt-sicario-acting-layers/
http://www.dailyactor.com/wp-content/uploads/2015/09/Jorja-Fox-CSI.jpg
Jorja Fox on Life After 'CSI': "I've always enjoyed not knowing exactly where the road leads"
"I think you kind of have to embrace the unknown if you're an actor." - Jorja Fox
http://www.dailyactor.com/actors-on-acting/jorja-fox-life-after-csi/
http://www.dailyactor.com/wp-content/uploads/2015/09/John-Turturro-Mia-Madre.jpg
John Turturro on the Life of an Actor: "It's a rough business. I wouldn't want my kids to do it"
"I am usually very well prepared. If you're a surgeon, you've got to know what you're going to take out today." - John Turturro
http://www.dailyactor.com/actors-on-acting/john-turturro-life-of-an-actor/