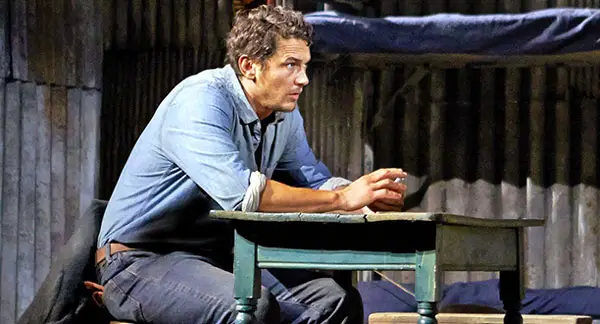 According to James Franco, everything associated with his Broadway production of John Steinbeck's Of Mice and Men is awesome… except, apparently, New York Times critic Ben Brantley's review.
Brantley gave the play a tepid review, calling Franco and co-star Chris O'Dowd "undeniably talented" but saying the production itself "feels about as fluid as a diorama in a history museum." Though the review has some notable praise for Franco, Franco has taken issue with Brantley's review as a whole. Franco took to Instagram to post the positive review from Variety but wrote, "Sadly the NYT and Ben Brantley have embarrassed themselves. Brantley is such a little b— he should be working for Gawker.com instead of the paper of record. The theater community hates him, and for good reason, he's an idiot."  Though it was later deleted, Vanity Fair critic Richard Lawson snapped a photo before it disappeared. Other reviews of Of Mice and Men are generally favorable (many praising O'Dowd more than Franco), but Franco obviously had an issue with this one.
This isn't the first time a movie star-turned-Broadway actor criticized Brantley's reviews. Just under a year ago Alec Baldwin went after Brantley after Baldwin's play, Orphans, closed early. Similarly to Franco, at that time Baldwin wrote, "I think it's time for the Times to get rid of Brantley. I don't know anyone, anyone at all, who will miss him or his writing." Of course, as I pointed out at the time, I doubt the Times would continue to employ Brantley if Baldwin's statement that nobody would miss him were true.
So Daily Actor readers, what are your thoughts on this?  Do you think Franco should have responded in such a way, or do you find that petty?  Should artists ever respond to critics in such a manner, or what should be the limits?