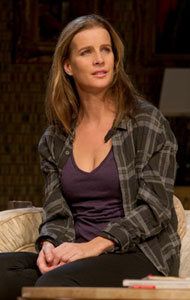 Rachel Griffiths might be making her Broadway debut in Other Desert Cities, but she has a long history of appearing on both television (Six Feet Under, Brothers & Sisters) and on the stage in her native Australia.
Although Griffiths didn't have much time to prepare for the role, she tells TheaterMania.com that she had no problems with stepping into it.
Griffiths says that her demanding work in television enabled her to jump into a play on short notice.  She explains, "Having worked in television, where I've had to learn 10 pages a night very quickly, I knew I could step into a role with two weeks rehearsals. Given what I've done in the past, I told our director, Joe Mantello, that Brooke is totally in my range, and loved the idea of getting to do something I've never done before. "
Of course, she still finds the role creatively challenging, pointing out, "Fortunately, the more I get into the role, the more I'm finding the oscillation from humor and vulnerability, and I can actually open up more areas of myself for the role."
In particular, she found that becoming as self-absorbed as the character difficult, explaining, "There was one part of this role that I was really struggling with. Robbie (author Jon Robin Baitz) and Joe kept saying 'You've got the grief, you've got the emotion, but you don't have this book' And it's true. I didn't really understand what it meant to be a writer until the last two days before previews. Finally, I realized, when you have three children, like I do, it is harder to be that self-absorbed and that good an artist. So I had to kind put myself back into the mind of that younger person, which for me is my early thirties, when I was just trying to be an artist at the top of my game. So I had a week where I was just manically focused on the play and not trying to juggle as much. I had to be a bad mother for a week just to remember what that was like."
Though Other Desert Cities has dates running through March, Griffiths is already thinking about what she'd like her next stage role to be… just don't offer her anything that isn't contemporary!  She admits, "I think I suit modern writing, like August: Osage County. I have no desire to do 1950s melodrama — the Arthur Millers or the Tennessee Williams — because the humor isn't there. I love a great production of Death of a Salesman as much as the next person, but I'm just really glad I'm not playing it eight times a week. And definitely not Ibsen. I did A Doll's House in London, and it was the worst experience of my life. I was miserable because it's so f—ing humorless. It was the kind of play where I got too close to the fire and I started to get really depressed. I didn't have any fun at all. I love the push and pull of drama that has comedy in it."
Other Desert Cities is now running at the Booth Theatre on Broadway.