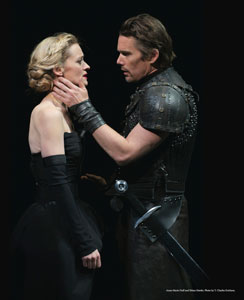 New York City must have a strong appetite for Macbeth.  In just the past five years, Macbeth has already been on Broadway twice: in 2008 starring Patrick Stewart in the title role and earlier this year starring Alan Cumming in his rather unorthodox nearly one-man show version. During that time there have also been several Off-Broadway productions, dozens of Off-Off-Broadway reinventions, and even the celebrated interactive adaptation Sleep No More that has been running at the McKittrick Hotel for nearly three years (I always thought my last name made a charming name for a hotel, even a fake one.  But I digress…)  The next major production has already been announced too: Kenneth Branagh will be bringing his celebrated production from the Manchester International Festival to make his New York theater debut.
So the question of the current production of Macbeth starring Ethan Hawke at Lincoln Center's Vivan Beaumont Theater is not so much what the production does, but what it does differently.  After all, everyone in the audience likely knows the story – it is one of Shakespeare's most widely-known plays and deeply ingrained in our culture – so in many ways those tackling it end up focusing on style over substance.
Here's a discount code for the show which includes a 67% savings! Tickets are $75 Orchestra/$45 Loge. This is an excellent deal!
Use the code MACBLOG or visit this link: http://www.broadwayoffers.com/go.aspx?MD=2001&MC=MACBLOG.
In fact, the director of the production at Lincoln Center and three-time Tony Award winner Jack O'Brien points this out in his notes in the Playbill, writing "And so, no stranger to this text, I have chosen to concentrate on the imagery of the play and reveal, only when the text asks for it, various images, locations, realities."  Thus, the entire production is painted in black, blood red, and a drizzle of white, yet to call the staging or set design simplistic would be unfair. When the production departs from this basic color scheme it is a jarring effect.  For instance, Macbeth and Lady Macbeth's royal robes are ostentatiously bright, which suggest the falsity behind their ascents to the throne. The closest visual comparison I can make is Orson Welles' 1948 film version of Macbeth that was heavily influenced by German Expressionism and is marked by heavy blacks, even for a black and white film.  But though modern day philosopher Nigel Tufnel once said, "How much more black could this be? And the answer is none. None more black," O'Brien has found a way to make his Macbeth "none more."  What makes the Spinal Tap reference even more appropriate is the production's curious and sometimes harsh bombast of music (composed by Mark Bennett, a Lincoln Center veteran) that seems to have drawn influence from Scotland to the Far East.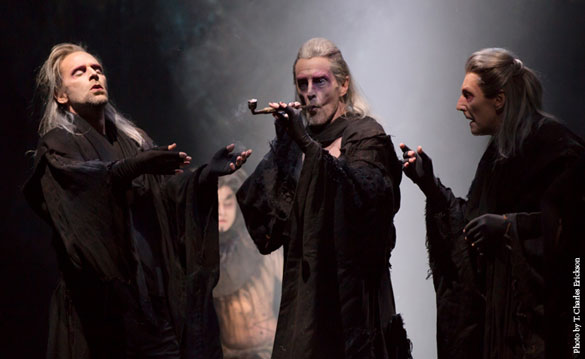 This production's emphasis on the Witches also echoes' Welles' film.  From a textual standpoint, the most significant departure in this production is that Hecate and the Weird Sisters are given much more prominent roles in the narrative, as the actors portraying the Witches (Byron Jennings, Malcolm Gets, and John Glover) are woven into multiple roles, presenting the idea that they are manipulating the events of the narrative to fulfill their own prophecies.  Curiously, this web-like narrative weaving is reflected by elements in the production design.  While the floor of the stage is covered by a mandala, its star-like shape can easily be confused for a web, and when Lady Macbeth is introduced her wide-waist dress gives actress Anne-Marie Duff a black widow-like presence on the stage.
Hawke, a Lincoln Center favorite (he previously appeared in the venue's Henry IV and The Coast of Utopia, both also directed by O'Brien), is certainly not someone who comes to mind when one thinks of a Shakespearian actor (particularly when compared to fellow New York Macbeth leads Stewart and Branagh).  His counterpart, Duff, is more in line with a traditional Shakespeare actress, and while this is her Broadway debut she has a long history of award-winning roles in London.  Other familiar faces in the cast include Brian d'Arcy James as Banquo and Richard Easton as Duncan.
Yet fundamentally it's the production design of this Macbeth, which is somehow both opulent and plain, but altogether unique, that sets it apart. 
For more information on Macbeth at  the Lincoln Center Theater at the Vivian Beaumont, check out its various social media sites:
Facebook.com/LincolnCenterTheater
Twitter: @lctheater
Pinterest: @lctheater
Instagram: @lctheater