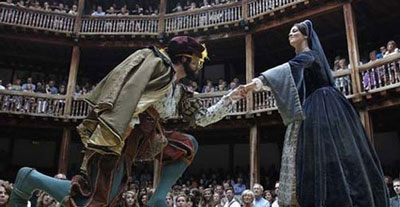 With most of the world's eyes on England because of the Queen's Diamond Jubilee and its associated pageantry, Archaeologists in London have made a very timely discovery relating to one of England's most famous icons, William Shakespeare. 
Historians from the Museum of London claim that part of the gravel yard and gallery walls of the 435-year-old Curtain Theatre in Shoreditch, where several of Shakespeare's plays were first performed (including Henry V, which refers to the Theatre as "this wooden O" in its prologue). 
The theatre originally opened in 1577 as one of England's first playhouses and in 1597 became home to Shakespeare's company Lord Chamberlain's Men until 1599, when the company made the new (and more famous) Globe Theatre its home.  Along with Henry V, it is believed that Romeo and Juliet may have made its debut at the Curtain.  The venue continued until the 1620s, which makes it the longest-lasting theatre of its era.
A full excavation will take place later this year, and hopefully we can learn even more about theatre in the Elizabethan era from the remains.  In the future, the public will be able to visit the site.
via the Associated Press