Commercial Actors Working More for Less Pay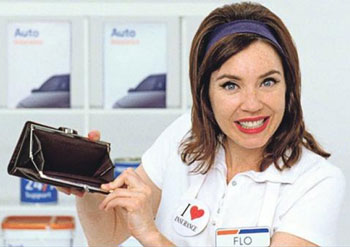 Just the other day I saw a commercial for a tax accounting company and recognized the lead actor from a Subway commercial.  That's not the first time I recognized an actor from a completely different commercial campaign before, especially lately.  If it seems to you that commercial actors are appearing in more and more ads, it's actually true: according to The Los Angeles Times, in order to make ends meet commercial actors are having to work harder than they used to.
Oklahoma City actor Frank Crim has appeared in 150 commercials over a thirty-year career but only earns about $60,000 per year.  Despite appearing on televisions regularly, he points out, "I still don't make enough money to buy a house.  I'm not asking for the moon, just enough to make a livable wage."  For many commercial actors that income is shrinking, and actors who once earned as much as $30,000 in residual payments from a single network television commercial have seen that number dwindle to a few thousand dollars or less.
One of the major issues is that an increasing number of big name actors are appearing in commercials (a problem that has similarly plagued voiceover actors recently).  Other issues include that lower viewership for shows on cable networks result in lower residuals for the actors in the commercials, and the fact that commercial actors receive little to no residuals from when their commercials are shown on the Internet, even if the ads go viral.
This week representatives of SAG-AFTRA are meeting with the major advertising agencies to work out a new contract for commercial work, which covers about 50,000 commercial actors.  One expected major point of contention will be increased payment for commercials shown on the Internet.  As another commercial actor veteran, Tom Konkle, points out, "We're not being compensated in any substantial way for creating commercials that can be seen around the world, that are available 24/7 and can be targeted to their audiences."
Prior contentions over compensation from advertisers led to a six month strike by the (not yet merged) SAG and AFTRA unions in 2000.  If SAG-AFTRA cannot come to an agreement with advertisers this week, it's possible that another commercial strike may occur after March 31, which is when the current contract expires.
Latest Videos
http://www.dailyactor.com/wp-content/uploads/2014/07/bill-hader.jpg
Bill Hader: "I kind of fell into acting" (video)
Bill Hader, starring in the soon to be released The Skeleton Twins, talks about the film and how he fell into acting and then got "crazy lucky" in this quick video from USA Today. Share on Tumblr
http://www.dailyactor.com/2014/07/bill-hader-fell-into-acting-video/
http://www.dailyactor.com/wp-content/uploads/2014/07/director-john-carney-narrates-a.jpg
Director John Carney Narrates a Scene from 'Begin Again' Starring Kiera Knightley and Mark Ruffalo
Director John Carney (Once) narrates a scene from his new film, Begin Again. Starring Keira Knightley and Mark Ruffalo, the scene shows the first time the two characters meet. I haven't seen it yet but I've heard it's great.
http://www.dailyactor.com/2014/07/begin-again-scene-director-john-carney-keira-knightley-mark-ruffalo/
http://www.dailyactor.com/wp-content/uploads/2014/07/holler-if-you-hear-me-gma.jpg
Watch the Cast of Broadway's 'Holler If You Hear Me' Perform 'California Love' on GMA
The cast of Broadway's newest musical, Holler If You Hear Me with music from Tupac Shakur, performed on Good Morning America this morning. Singing 'California Love', the cast (including the teriffic Christopher Jackson – read our interview here), show why they're the most energetic and inspiring group of actors on Broadway. Holler If Ya Hear [...]
http://www.dailyactor.com/2014/07/watch-cast-broadways-holler-hear-perform-california-love-gma/
http://www.dailyactor.com/wp-content/uploads/2014/07/behind-the-scenes-of-dawn-of-the.jpg
Behind the Scenes of 'Dawn of the Planet of the Apes' with Performance Capture Actor Terry Notary
Actor Terry Notary is 1 of 5 actors playing the apes in the new Dawn of the Planet of the Apes. "When you see armies of apes," he says, that's "five of us." Check out the video where you can watch his performance capture work.
http://www.dailyactor.com/2014/07/dawn-planet-apes-performance-capture-actor-terry-notary/
http://www.dailyactor.com/wp-content/uploads/2014/07/melissa-mccarthy-daily-show.jpg
Melissa McCarthy and John Stewart Talk About Terrible Commercial Auditions on 'The Daily Show'
Melissa McCarthy stopped by The Daily Show last week to plug about her new movie, Tammy. She talked about how she loved working with her husband, Ben Falcone (director of Tammy) and then segued into talking about some horrible working situations. The always hilarious McCarthy then started to tell host John Stewart about a particular [...]
http://www.dailyactor.com/2014/07/melissa-mccarthy-john-stewart-commercial-auditions-the-daily-show/