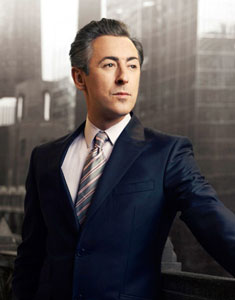 Actor Alan Cumming has seen an increase in the amount of screen time he gets as lawyer Eli Gold in CBS' Sunday night drama The Good Wife.
In an interview with The Columbus Dispatch, Cumming said, "I thought I wasn't suited for [the role].  It was supposed to be for one episode or maybe two."
But in the series' third season, Gold has become a fixture in the law office of Alicia Florrick (Julianna Marguiles).  He said, "They started writing for me a little more. You ask for something, and suddenly your character is doing it. That's exciting."
The role of Gold is certainly a departure from some of Cumming's other more risky roles, including his Tony-award winning performance on Broadway as the Emcee in 1998's Cabaret.  He said, "Whenever I've played real people, they've always had some fantastical side to them. I'd never played anyone in a suit in an office."
But after starting on the show as Peter Florrick's (Chris Noth) political consultant, it was apparent to viewers that Cumming stole every scene he was in.  He said, "I was surprised at myself.  When I started to play Eli, I hated not knowing what was going to happen.  I was nervous."
His nerves must have calmed, because Cumming has signed on to play Eli for at least two more seasons.
One of the few disadvantages of playing Eli has been his straight-laced appearance—an element Cumming has been unable to change.  He said, "My hair is very long, and they put on tons of hairspray and comb it into this box that sits on top of my head.  I hate it.  They even put gray streaks in to make me look older.  Now, all of a sudden, I'm this gray-haired, middle-aged man.  I act my age, at least with my hair.  But I'm a very perky 47-year old."
Before his role on the TV show, Cumming had appeared in both independent and mainstream movies, including Emma, Spiceworld, and Spy Kids 2.  "Hollywood considers me a bit of a wild card," he said.  "I'm quite eclectic.  'What's he going to do next?'"