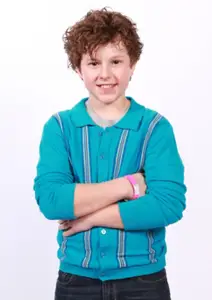 What's it like to obtain success super early in life?  Modern Family star Nolan Gould, who plays young prankster Luke Dunphy, speaks from experience.
"I realized something as I was driving in my limo [heading to the Primetime Emmy Awards in September]—'Wait a second!  I'm 13!  This is my third time at the Emmys.  What am I supposed to do with the rest of my life?'  It's all downhill from now," Nolan jokingly recounted to Yahoo! News.
Not only has Gould been a part of the successful ABC sitcom, he's also already graduated from high school!
"Over the summer, I did a lot of studying and I took an exam and tested out of high school," Nolan said on The Ellen Degeneres Show.  "So, I'm hopefully going to go on and do some online community college courses."
The young actor also has an IQ of 150 and is a member of MENSA.
Modern Family airs on Wednesdays at 9 p.m. on ABC.