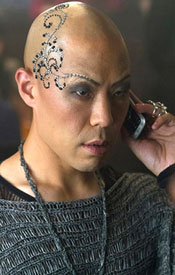 It might be difficult enough for some straight male actors to play gay characters—but what about donning wigs and dresses?
For Hoon Lee (who's straight and married), it's just another day at the office.  He portrays Job on Cinemax's series, Banshee, but confesses that his off-screen life is a tad less exciting.
"The real-life part of it is bound to be horribly disappointing," Lee said in an interview with The Charlotte Observer.  "I'm a very pretty normal guy."
To most people though, Lee is far from ordinary.  He's a Harvard grad, who just happens to have appeared in major projects like Sex and the City and Premium Rush.  And now: he has to contend with his costume designer over his outrageous outfits.
"The wig [I wore] was actually a composite of like six different wigs," Lee said.  "And it weighed a lot, it was very heavy.  The corset was this custom leather corset, which I got strapped into and was very, very tight to the point where I couldn't sit.  I couldn't even really eat, and so I was vaguely nauseous for most of the day.  If I needed to rest, I just had to lean against the wall."
But despite the woes of difficult costumes, Lee feels that he's come across a very intriguing role to play.  "There are all these things, and even though he tends to show up in short bursts, every time he does show up, there's something very clear to play," he said.
Lee also wanted to make sure that he was working hard to portray several different minorities in the best of light.
"As an Asian American, [I'm] sensitive to the portrayals of minorities, and when you have a character that exists as potentially part of several niche groups, or minority groups—groups that self-identify in a certain way—I think there's a real danger in becoming an abstract idea, as opposed to a person.
"But we worked very hard to understand internally Job as a person, so that any choices we made about his behavior or his presentation could be grounded in the specifics of an individual, not in a general understanding of a group of people."
Banshee just wrapped its first season, and has begun shooting its second.