Brendan Griffin on the Long Trip to Success for 'Clybourne Park'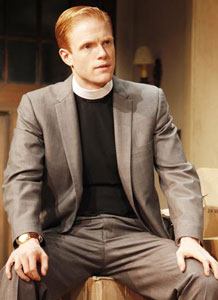 Despite being eligible for the Tony Awards this year (and winning the Tony for best play), Clybourne Park originally debuted at New York's Playwrights Horizons in February 2010. It then bounced across the Atlantic for its London premiere in August 2010, and ended up in several American cities before finally returning to New York, this time on Broadway, earlier this year. 
Originally set for a 16-week run, the play has recently been extended by three weeks because of strong sales.  One of the actors enjoying that success is Brendan Griffin, who appeared in the original Playwrights Horizons production.
But Griffin didn't always intend to be an actor.  As he tells his hometown newspaper the Pittsburgh Post-Gazette, he was involved in sports in his youth.  Griffin explains that he switched to theater as a senior when he stopped enjoying playing football, saying, "I realized I wasn't having fun anymore. You know how competitive it is, how serious football is in Western Pennsylvania." 
After graduating Kenyon College with a degree in drama, he moved to New York City and soon found himself intimidated by other musical actors in the city.  He recalls, "they were Mandy Patinkin-caliber singers.  I'm a good singer but I didn't have the money to cultivate that, to hire a voice coach, long range. I didn't have any dance training so I couldn't go to a dance call."
Griffin was eventually cast in the original production of Clybourne Park, but at first it seemed unlikely that the show would be the success it ended up becoming.  He explains that 2010 "was the year Broadway was really heavily dominated by Hollywood actors: Scarlett Johansson and Denzel Washington both won Tonys and there was Catherine Zeta-Jones [winning for A Little Night Music].  We didn't have any 'star' names in our cast, and there wasn't really any possibility for it to find the [production] funds to take it up the street."
Though Griffin took roles in between in theater and in a film, he was proud to come back to the Broadway production of Clybourne Park.  He is marveled by the effect the play has on audiences, pointing out,"People come in thinking they're going to see a play about race and real estate, and they end up walking away having seen a play about so much more — in effect, seeing a play about themselves.  And that's an uncomfortable place to live in for a couple of hours. But if you're available to it, it can be a pretty informative experience."
Clybourne Park runs through September 2 at the Walter Kerr Theatre.
Latest Videos
http://www.dailyactor.com/wp-content/uploads/2014/09/watch-david-mamet-in-the-1976-sh.jpg
Watch: David Mamet in the 1976 Short Documentary 'The Playwright Directs'
Though David Mamet is best known for his distinctive writing style in his scripts for the stage and screen, he has also directed theater and film. The 1976 short documentary titled The Playwright Directs depicts Mamet directing actors through several scenes at an almost frantic pace, dispensing pearls of wisdom throughout, like his thoughts on […]
http://www.dailyactor.com/2014/09/watch-david-mamet-1976-documentary-the-playwright-directs/
http://www.dailyactor.com/wp-content/uploads/2014/09/watch-marvels-agents-of-s-h-i-e.jpg
Watch: Marvel's Agents of S.H.I.E.L.D. Season 1 Bloopers
Forgetting lines? Corpsing? Delivering lines in Spanish? Unruly props? All in a day's work on the set of Marvel's Agents of S.H.I.E.L.D, apparently. Clark Gregg, Ming-Na Wen, and the rest of the cast find plenty of humor while playing super-serious secret agents in the Marvel Universe. While you're waiting for season 2 of the series […]
http://www.dailyactor.com/2014/09/watch-marvels-agents-of-s-h-i-e-l-d-season-1-bloopers/
http://www.dailyactor.com/wp-content/uploads/2014/09/audtion-tapes-robin-wright-and-h.jpg
Audition Tapes: Robin Wright and Haley Joel Osment Audition with Tom Hanks for 'Forrest Gump'
Check out Robin Wright auditioning for the role of Jenny from Forest Gump opposite Tom Hanks. Interestingly enough, Hanks doesn't quite have Gump's southern drawl down just yet while the other actors audition with him. In fact, Hanks would base Gump's voice on the voice of Michael Conner Humphreys, who played the young Forrest and […]
http://www.dailyactor.com/2014/09/audtion-tapes-robin-wright-haley-joel-osment-tom-hanks-forrest-gump/
http://www.dailyactor.com/wp-content/uploads/2014/08/bryan-cranston-emmy-award-speech.jpg
Watch: Bryan Cranston's Emmy Award Speech: "I love to act. It is a passion of mine and I will do it until my last breath."
The Emmy Awards weren't the most exciting awards show this year but with Bryan Cranston winning for Outstanding Actor in a Drama for Breaking Bad, we at least got to hear one heck of a fantastic acceptance speech. "I was a kid who always looked for the shortcut," he said. "I did happen to stumble […]
http://www.dailyactor.com/2014/08/watch-bryan-cranston-and-aaron-pauls-emmy-award-speeches/
http://www.dailyactor.com/wp-content/uploads/2014/08/audition-tapes-gerard-butler-aud.jpg
Audition Tapes: Gerard Butler Auditions for 'Dracula 2000′
Check out Gerard Butler auditioning for the role of Dracula in the movie, Dracula 2000. The film, about a group of thieves who break into a chamber expecting to find paintings, but instead find Dracula himself, also starred Christopher Plummer, Jonny Lee Miller and Nathan Fillion. Bulter has some sweet rock star hair, huh?
http://www.dailyactor.com/2014/08/audition-tapes-gerard-butler-dracula-2000/