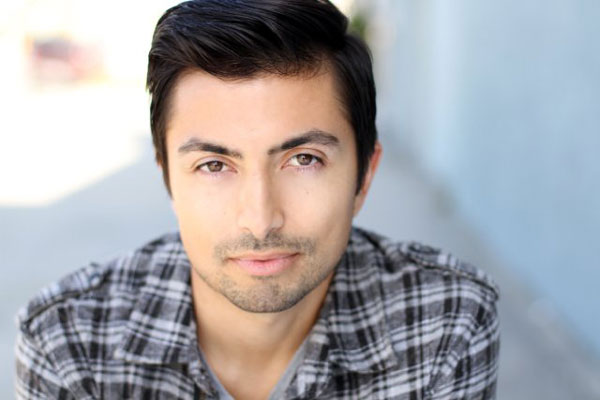 Shaun Taylor-Corbett alternates the role of Frankie Valli in the touring production of Jersey Boys, a role that he's tried to take on for the past 6 years but the "timing never worked out," as he said in a recent interview.
After starring in Broadway's In the Heights, he decided to move to LA to pursue film and TV work where, as luck would have it, he was finally cast as Valli. "Even if it takes a long time, it still can happen," he said.
I talked to Shaun about playing the iconic singer, keeping his voice in shape and going to Frankie Camp!
Check out Shaun's website!
Jersey Boys is currently playing in San Diego. Click here for tickets. For more tour dates, click here!
How long have you been with the tour?
Shaun Taylor-Corbett: No, actually… well, this tour has been going since 2011. I mean, it's incredible how the show just keeps going and going. But I actually started with the tour last November in South Bend, Indiana.
Oh, wow.
Shaun Taylor-Corbett: Yeah. And then we went to Philly, which was really cool because all of my east coast family and friends got to see it there. And then made it all the way out here to LA, it's awesome.
You're based out of LA now?
Shaun Taylor-Corbett: Yeah, I am actually. Yeah for probably the last 3 and a half years. 3 years, really. But what's cool is that I've wanted to do this show for 6 years and the timing never worked out and then I moved out to LA and I thought, "Well, how am I gonna…" they usually cast out of New York. So I didn't think it would happen and I came out to LA to do film and TV and it's ironic that this is where I actually booked Jersey Boys and I got it. I got the role of Frankie Valli. So it's… man, it's just cool to know. Even if it takes a long time, it still can happen.
Yeah. So how did you actually get the part?
Shaun Taylor-Corbett: Well, you know, it's been such a long process because when I was in New York I was doing In the Heights on Broadway, which was a dream come true as well. And someone from the casting office saw me there and said, "Come on in." And I've known people from the organization for a long time, but it's just… they had me in, they kind of trained me.
There's something called Frankie Camp. They actually have potential Frankie Valli actors come in and, you know, they teach them singing, they work on vocal technique with a vocal coach, they work on all the really complex dance moves of the show, including splits, which is very hard. And the acting, the history of these guys, and it's been so sporadic for me that I never got a chance to do the Frankie Camp, which is probably a week or 2 weeks. But because they called me in so many times in different places, I've picked up a little bit here and there each time they worked with me for an hour or two hours. And by the time I auditioned about a year ago, I had been practicing so much on my own and from everything I picked up from all of these different auditions that I kinda had a good base to start the show and they thought I was ready.
But it's not something anybody can just pick up and do. You have to really put time into it. And even now, it's like learning the show I feel like I'm finally beginning to learn how to do this role after 9 months. You know? Of performing it on stage in front of people.
It's one of those career roles where you just… you could spend 5 years of your life trying to master the role. It's just… it's that hard.
Before the first time you went on, did they rehearse to bring you in? I suppose they flew you into Indiana to rehearse?
Shaun Taylor-Corbett: Oh yeah. It was cool. They flew me at first, which was the coolest thing, is they flew me into Nashville, Tennessee where one of the original Four Seasons Bob Gaudio, who co-wrote most of the songs and lyrics of the show and of the Four Seasons music. They flew me into Nashville because of his studio, and I had 2 full days to record with him as a technique to hear how I sound singing Frankie Valli's vocal parts. And then he would listen back with me, we'd work on it, and then he'd put me back in there and sing it again and then he sent me away with the final product so I could remember what he worked on with me and the sound that he wanted. Because he has the first-hand knowledge of what Frankie Valli sounded like and sounds like to this day because he's still touring, which is awesome.
And then they flew me to New York and I got to work with the production supervisor, Richard Hestor, two days or 3 days of Dramaturgy on history of the show, which is very important to them, more so than just be a good actor. It's like why are you doing what you're doing, because Frankie went through this, because of this personality, this is how he would've responded to that.
And then I went to South Bend and they rehearsed me like crazy for 2 to 3 weeks. Then everyone came to Philly, gave me final approval to go on, and I had my first show.
It's a rigorous process and they don't take it lightly. They wanna make sure that the audience gets the best possible product.
Wow.
Shaun Taylor-Corbett: And then I, like I said, you learn every show. You learn to perfect and master certain things and how to keep yourself healthy, how to keep vocally strong. I had to do 6 shows in one week one time and it's very hard.
I split the role. There's a couple Frankie Valli's that do the role in the show, and sometimes if one needs a little bit of a break another one jumps in and that's how demanding the role is.
I saw the show in Vegas a while back and, obviously I saw the movie and I know his music, but your voice has to be like in tip top shape.
Shaun Taylor-Corbett: Yeah.
How do you keep it in shape?
Shaun Taylor-Corbett: Well, I was… right before you called I have to sing 2 hours a day and…
Before the show?
Shaun Taylor-Corbett: On the days where I do the show I probably sing about an hour and then on top of the show because you have to start right out of the gate loose and really strong. You can't use the show to warm up because it's too late. You have to come into it singing a couple of the songs already in your head, make sure you have the power from everything you can do because you have to sing falsetto, you have to sing ballads.
It's not even just the singing. The scene and the book are so strong that you have to vocally just put a lot of emotion and strain into your performance.
So by the time the end of the show rolls around you have to sing a ballad, you have to have a little bit left in the tank to nail the ballad as well. You're not just hoarse. You know what I mean?
Right, yeah, yeah.
Shaun Taylor-Corbett: it's like being an athlete. If you're training for a certain sport, if being the best Frankie Valli is like being the best Michael Phelps. I mean, maybe that's going too far, but you have to work out, I mean, keep your stamina up, keep your flexibility up in your body, keep yourself healthy vocally, hydrated, make sure you take all the notes, make sure the acting is on point, the singing is on point.
And you can really tell a difference when you can do that performance and all of those elements fall into place with the other cast and a show. The audience is so affected by it and you wanna have that happen every show.
I know people who have seen the show 2, 3, 4 times and they love it. It's like they're groupies for the show.
Shaun Taylor-Corbett: I know, it's so cool. And they come back and some of them know more about the show than I do.
Right, yeah. And then they'll specifically say, "Well, I haven't seen this guy in the role yet. I wanna go see him."
Shaun Taylor-Corbett: Exactly, oh my God. That's so true. It's so true. They're like, "You're my 20th Frankie that I've seen." I'm like, "What? How many times have you seen this show?" Some of them are like 600 times or…
That is crazy.
Shaun Taylor-Corbett: I know. Yeah, but it's awesome.
I want ask you something about being an understudy. You were an understudy for In the Heights?
Shaun Taylor-Corbett: I started out as an understudy but then I took over for a principle role.
Right, right. But when you're an understudy, do you have to go to the show every night? Even if there's no chance of you working? Do you have to be there the whole time? How does that work?
Shaun Taylor-Corbett: You know, it's different for each show but In the Heights, because I was in the ensemble as well, I did have to be there. But I could be called at a moment's notice to be the lead. I ended up taking over for that as a principle, which was awesome.
But in this show it's interesting because I'm really technically considered the alternate Frankie or the two-show Frankie, which means that I'm guaranteed 2 performances a week I'll be on for sure.
The other shows I'm there, I've done 6 in a week, I've done 4 in a week. If there's a vacation or my good friend Hayden Malanes, who's the 6 show Frankie, if he gets sick I'm there. And, however, once the show begins there are other guys who actually can play Frankie Valli as well.
But what's great about me is that I have a lot of time to rest. It's the one show that I know of, other than maybe Wicked, where once the show begins you don't technically have to be there. You have to stay close. You have to stay pretty close.
And I remember one time doing In the Heights, I was understudying the lead but I was an off stage standby, so I lived close enough within 15 minutes that halfway through the show I was watching a movie and they called me and said, "Get over here right now." And I left the movie, did a transition into the dressing room was like you had to go on the stage, so I did the transition on the stage into the dressing room, got changed into the lead, and came out as the lead halfway through the show. That was crazy.
As you're racing there is your heart just beating, just full of adrenaline?
Shaun Taylor-Corbett: Oh, yeah. It's like it's scary but, you know what, it's also exhilarating. And I think that's why understudies love it. I mean, it's scary as hell but when you go on and you can do that it's kinda like you saved the day and everyone's like, "Yeah, you're the hero, man."
Now, my next question is did you go back home and finish the movie?
Shaun Taylor-Corbett: No, I never got to see the rest of it and I can't remember what the heck it was now.