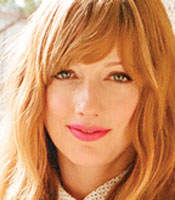 Dead Accounts, the new Broadway play by Theresa Rebeck, isn't getting the best reviews but there is one thing most of the critics have agreed on: Judy Greer is pretty great as Jenny, Norbert Leo Butz's ex-wife who comes on the scene with a huge secret.
Greer is making her Broadway debut and when she was offered the part, she thought that  "at first I thought it was a joke." She went on to say that, "It's such a huge honor.  The discipline it takes to be in a play is something you don't often find in television and film.  If I never did another show, I would [already] be such a better actor on whatever project I have next."
In an interview with Broadway.com, she also chats a bit about her career:  "I don't have an awesome story for people starting out in the business.  It all happened really organically for me." she said.
As a kid, Greer found ballet, but "it became clear to me, the older I got, that the cream rises to the top and I was not rising!" So, when she hit High School, she decided to try theater. "I wasn't super popular, I didn't have a ton of friends, but theater was very welcoming."
After school, she was accepted into an elite theater program at DePaul University but even that wasn't smooth sailing for her. "I felt like I could live like a movie—reinvent myself and become the kind of person I could have been in high school," Greer noted.  "They never liked my voice.  I almost got kicked out.  And it's funny, because when I did move to LA that part of me was so me.  They try to strip away everything that makes you you, but being myself was something that actually made me successful in Hollywood."
Up next, Greer hopes to continue working in theater, doing "as many more plays as I possibly can.  I have this fantasy of being in a musical, but I would have to sing, and I might be a terrible singer.  The best advice I ever got was from my high school chorus teacher, who said, 'When in doubt, sing loud.'  So I would sing loud—real loud."