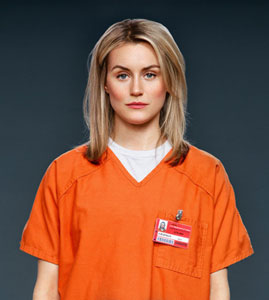 Taylor Schilling has had one of those years where her life changes with just one job. Booking the role of Piper Chapman in Netflix's critically acclaimed series Orange Is The New Black has propelled the actress into new territory.
Schilling talked with HuffPost TV about her new life with a successful career and a familiar face to TV audiences.
She shared what it was like to take on the role of an unlikely woman sent to prison.
"I was so excited. I read the first episode and I was totally, totally blown away. Across all mediums and platforms, it was the most dynamic female character that I've ever read, bar none," the 29-year-old said enthusiastically. "I was like, 'How can I get in on this?!' The humor, the honesty … to actually be able to portray a real woman is a pleasure, creatively. And culturally it's important to depict a real woman. Even if this wasn't on Netflix, I would have followed the role anywhere."
While her character is based off of Piper Kerman's true story, Schilling didn't do much research before she started Season 1.
She reasoned, "We didn't really chat beforehand, which I thought was pretty great. I didn't want to use any reference points that Piper had when she went to prison."
Keeping her perspective fresh is what makes her take on the role so fascinating, she plays Piper like a true character actress. She revealed that "up until Orange I was only doing girlfriend-y parts. In school I was playing old men and women, babies, Russian people, and all sorts of weird parts — a lot of comedy — and that's sort of like home to me."
While Schilling is enjoying the working aspects of her career, she is also recognizable to fans on the street. The star seems to handle the newfound fame well.
"There's this bar across the street from my house, and if I walk by it at 11 p.m. when people are a little tipsy, they're like, 'PIPER!!' When people get drunk they get very uninhibited and excited. They want to talk about the show," Schilling explained. "It's really lovely, and fun. Nobody's crazy and it's not impeding my life. It's nice that people are enjoying the show, and it seems like it's hit a nerve."
Season 1 of Orange Is The New Black is available on Netflix. Season 2 is expected to launch in early 2014.