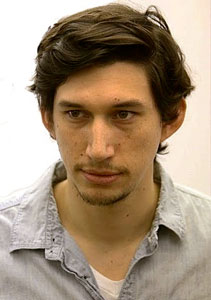 Many actors in Hollywood are just another pretty face, but for Girls star Adam Driver, he's a unique face. As the oddly attractive boyfriend of Hannah on the HBO series, the 29-year-old actor knows he is not your typical chiseled Tinsel Town performer.
He joked about himself, "I'm like a sight gag. I have this really big face."
In fact, one TV writer even described his looks as "worthy of the Mongolian plains."
Driver takes it all in stride since he is atypical in a land where many leading men stand around 5-foot-10 while he towers at 6-foot-3.
He explained, "Costume people are always saying they don't have clothes big enough for me."
The cable star seems a bit baffled by his success with his unconventional looks.
He said, "I don't totally get it. I mean, when I read for Girls, I was, like, the script says 'Handsome Carpenter,' so someone else is going to get the part. They'll have someone handsome, not me. I mean, I'm not in any danger of getting leading-man parts."
The Inside Llewyn Davis star is keeping himself grounded despite all of the attention especially when he found himself nominated for an Emmy for Outstanding Supporting Actor in a Comedy Series last September.
"The deadly thing in my job is to attach too much meaning to everything. You have to have a sense of humor about yourself," he said.
His rise to the top hasn't been all sunshine and roses though. Driver admits to a bit of darkness and soul searching during this heady time.
"I'm definitely trying to figure this all out as I go along, how to craft a career. As things get bigger, I have days of depression, sitting in the house and wondering 'What are you doing? Is it even relevant?' he said. "I'm not against Hollywood at all. I just want to be involved with good writing and work that has some kind of meaning. I learned from the military that I'm not immortal, you know. Time is of the essence. Don't delay."
The beginning of his acting career didn't begin so smoothly either.
He said, "I auditioned in Chicago for Juilliard and didn't get in. I was basically living in a back room of my parents' house, paying rent and not doing anything with my life. I'd like to say it was patriotic to join the Marines, but it was also that I was doing nothing honorable with my life, and spending too much time at McDonald's.
Even though he was never deployed, his stint in the military eventually led him back to where he started, Julliard. For his unconventional looks, it sounds like Driver is also having an unconventional career.