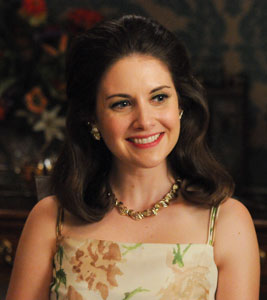 Talented, entertaining, and funny, Community and Mad Men star Alison Brie says she can make an egg salad sandwich with her feet. 
The twenty-nine year old California native also shared with Vulture how she got her start right out of college, juggling her acting gigs and jobs at a yoga studio. "I was very lucky to have a manager come and see me in a play while I was still in school and sort of pickpocket me and set me up with a commercial agent and a theatrical agent right out of college, so I was able to kind of hit the ground running auditions-wise right after I graduated," she said.
"But I definitely lived at home and worked at three different yoga studios at the front desk, and would do any job," she continued. "I was doing student films, I was doing PSAs, I was doing really low-budget movies and just anything. And plays. And then actually that's how I was able to quit my day job, doing theater in Ventura. While I was doing theater I booked Mad Men and so everything just kind of went from there. Very lucky, but also a lot of work was put in, and it was definitely a conscious decision to live at home so that I could work a job that didn't pay very much but had super-flexible hours. I moved out a year ago."
The actress also spoke about her busy schedule throughout the year while she pulls double duty as both Annie Edison and Trudy Campbell  of Mad Men.  "For about eight months of the year it's pretty crazy when we're in production on Community and Mad Men at the same time. The Mad Men schedule is shorter because they only shoot 13 episodes of that show and 22 of Community. Every other year the productions have only overlapped by like a month, but this year Mad Men got started so late, so the entire season of Mad Men was engulfed by our season of Community and they were just totally simultaneous. It's mostly like I don't have much of a life at all when we're shooting the shows, which is fine, because I love everyone on Community." 
Working both roles, Brie says that she has had to portray her famous alter egos on the same day due to scheduling.  "I've done both on the same day a few times, and it's fun. Those are the days I think that I'm most excited and feel like it's all happening, you know what I mean? It kind of is super fun. I do sort of think where I make … even though it's seldom up to me. The days where I start on Mad Men and then get to go over to Community, to literally taking your hair down and letting it all out. The clothes are so restrictive on Mad Men, which is great, and they put me in character, and it's very important to me when we shoot over there, but it's like just such nuanced, focused work and dramatic work and incredible, so it's kind of nice to start shooting there and then like cut loose."
Aside from her well known roles in both TV series, Alison Brie is also starring in The Five Year Engagement with Jason Segel and Emily Blunt that is currently out in theaters.