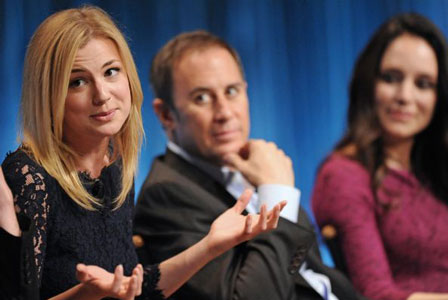 The creators of the hit ABC show Revenge were more than generous providing teasers for the rest of season one, promising more flashback episodes (including one set entirely in 2002) and another giant cliffhanger, when they gathered for the 2012 Paleyfest (William S. Paley Festival) in Beverly Hills on Sunday. 
The cast and creative team behind the drama/soap held a panel, moderated by TV Guide's Debra Birnbaum, at the Saban Theatre as part of the festival's celebration of quality television.
On hand to answer questions were executive producers Mike Kelley (Swingtown) and Marty Bowen and members of the cast including: Emily Van Camp, Madeline Stowe, Josh Bowman, Henry Czerny, Nick Weschler, Gabriel Mann, Connor Paolo, Christa Allen, and Ashley Madekwe. The event began with a special screening of the first half of episode 17, which is set to air April 11.
Kelley explained that the show won't get caught in the common trap plaguing other dramas—the long dragging out of storylines.  The trial of Daniel Grayson will end by episode 18, and the plot will speed up, so that the audience checks back in with the story around December.  By the end of the 22-ordered episodes the main plot will be resolved, but Kelley said they will "tease another giant event, and set up new drama and new alliances" to intrigue viewers to come back for a second season.
Stowe gave another hint when she revealed "vengeance is coming" on the series and that more insight will be given on Victoria Grayson's background and what occurred that made her turn so vindictive.  The actress said playing Victoria is "a ball."  Despite the character being villainous, Stowe finds her "heinous and twisted and loving…I love that she's a mess—messes are great."  She found a way into the character by realizing that "Victoria will go to the ends of the earth for her son," and all her actions, no matter how diabolical, are rooted in wanting to protect her family.
Van Camp also finds her role as Emily Thorne (the real Amanda Clark) to be complex.  Although Emily often hurts people on the way to seeking redemption for her father, Van Camp says she still maintains "a moral code…a sense of integrity."  The actress was originally concerned that the character wouldn't come off as sympathetic to the audience.  Kelley said the casting was perfect because "Emily Van Camp looks like someone you can trust."  In the next several episodes it will become clear just how far Amanda will go in her pursuit of revenge.
Mann revealed that the relationship between Nolan and Emily will continue to evolve, noting that Nolan will also be more present in flashbacks.  Kelley said the flashbacks prove that there are "different places the show can live."  Although the show could be considered a little outlandish by some (Amanda's childhood dog would be at least 20 years old!), Kelley said, "If it's not impossible, we'll probably do it."