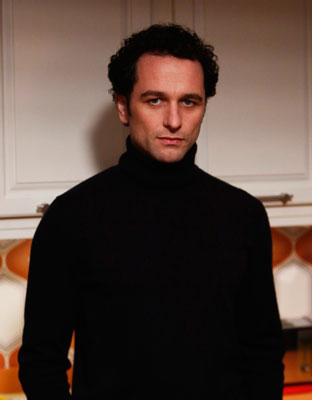 Matthew Rhys has a lot to tackle (literally) as covert KGB agent Philip Jennings on FX's new hit drama, The Americans.  However, despite being a little worried about taking on the part, Rhys is winning rave reviews for his portrayal.
"I'm always terrified to play a new part anyway…It's always a concern of the danger that you're going to try too hard in being tough and that never comes across as tough," he said in an interview with The Huffington Post.  "I was lucky that I had done a little bit of training prior to getting the job so I had a little bit of a head start on the martial arts, but I was concerned, definitely."
In fact, there have been a few times when shooting has gone wrong.  "There's been a number of fights that I've messed up," Rhys admitted.  "My ego really takes the bashing there.  But they've gone relatively well."
Rhys has developed an interesting relationship with his costar Keri Russell.  During their initial screen test, Russell had to slap Rhys, and now the two have turned the slap into a pre-shooting ritual. 
"I think she's taken it upon herself to become some sort of life motivator or acting coach or, as she bemoans, it sort of keeps me on my toes and to get into the character that I'm going to be playing," he said.  "But certainly, without any warning, I do get a hefty one across the chopper before someone says, 'Action.'"
There is an element that Rhys really enjoys about shooting the series set in the '80s—he gets to try on many disguises as part of his spy work.  "I don't say this lightly: I think that if you were to write a list of everything you wanted as an actor—playing a different character within the character, the spy aspect, the weight of the emotion with the relationship—it does have everything.  More often than not, the greatest part is just laughing at what Keri Russell looks like."
The Americans has already been picked up for a second season.  It airs on FX, Wednesdays at 10 p.m.