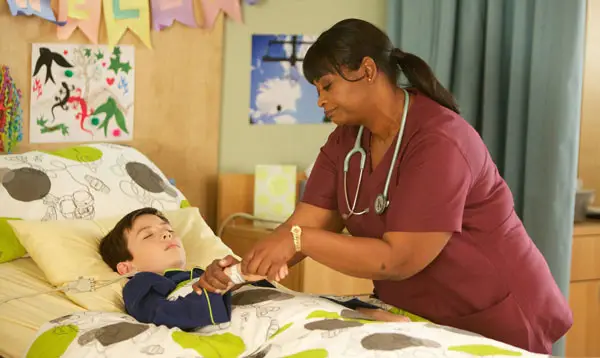 Oscar winner Octavia Spencer hasn't slowed down since her 2012 win for The Help. The 44-year-old actress has been in films like Snowpiercer and the Divergent sequel, Insurgent. She's now helming Fox's fall dark -comedy series, Red Band Society.
The show revolves around a group of teenagers who are patients in a hospital's pediatric ward. Spencer leads the show as Nurse Jackson.
She shared why she took the role, "Red Band Society checked a lot of boxes for me. I was offered comedy deals. I was offered parts where I was the definitive lead of a show. What I loved about this was (a) I thought it was an amazing script, the best pilot I read; and (b) I loved that it wasn't all about her. There were mysterious things about her that you knew would play out in the season. Why does she ride the bus? She's a nurse. She can afford a car. What's that about? Why is she so caustic with some of the patients but shows this very heartwarming side to others? I thought, 'What a very complex person, and I cannot wait to get into her skin to bring all of that to life.'"
Spencer is not someone who has solely relied upon her talent to get her the Oscar and the success she's seen in the last few years. She's a big believer in vision boards to help manifest your goals.
"Here's the thing. It's just about — you light candles, you collect pictures from magazines of the images in your brain, of what it is that you want, words. Cut them out. Light your candles, drink your coffee if that's your feel-good place. This is like a diary. It's you making a little visual diary in the bubble of the most happiest moment you can create. Watching mystery TV or baking doughnuts. Whatever it is for you. Make it an environment that is really, really warm and conducive to happiness. You should feel very safe and very happy when you make it. Also, don't look at it anymore once it's done," she explained. "Put all of that happy energy into it, and then put it into the back of your closet or underneath your dreams so that nobody else will be able to see your dreams. It should be protected. Then don't focus on it anymore, because when you focus on it, it becomes this obsession."
Spencer continued, "You know it can be as small as eight by ten, or it could be a poster board. And you want to put a picture of yourself in the center of it. Like, this is for me. And you can write words on it, print out your intentions. Then you put it away and allow the universe to bring it to you. Oh, and it's also good just to do a few things at a time. You don't have to solve your whole life in one vision board, you know? It worked for me. You just have to release it."
Red Band Society premieres Sept. 17.
Via Vulture