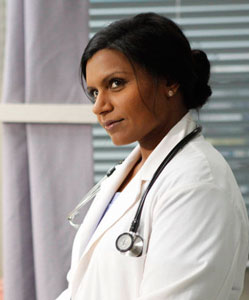 Mindy Kaling is the first one to admit that she doesn't really know how to handle her success.
"I don't know how to process enjoyment, it's like a personality defect," she said in an interview with The Guardian.  But it looks like she'll have to learn how, considering what a hit her show, The Mindy Project, has turned out to be.  Although the comedy didn't have stellar ratings when it started, it's already been picked up for a second season on FOX. 
Kaling works as the writer, producer, director, and star of the show—but she's not letting her achievements go to her head.  "I get the sense that when you revel in something you make yourself vulnerable to attack or criticism," she said.  "Sitting back in an overstuffed leather chair and saying, 'Life is great!'  That's kind of gross.  I just keep my head down."
Kaling has proved herself to be one of several new female comedians leading television into a new age (ex: Lena Dunham, Zooey Deschanel), and she recognizes that she's breaking down the typical white male comedy formula.
"For what my job is, a writer in Hollywood, there are about 12 things that would discourage the average person with my fame," she noted.  "I feel I can go head-to-head with the best white, male comedy writers out there.   My biggest challenge is being frequently underestimated.  Underestimated for not actually being truly funny, not actually being the lead or the credible love interest."
Kaling is definitely using this to her advantage, as she continues to alter Hollywood's thinking of a typical writer and comedian in Hollywood.
The Mindy Project airs on FOX, Tuesdays at 9:30 p.m.