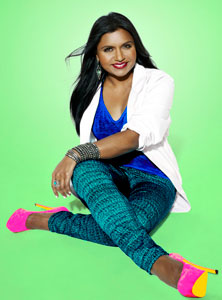 Mindy Kaling's new FOX comedy, The Mindy Project, about a OB/GYN who is "navigating the tricky waters of both her personal and professional life", just got a welcomed full season pickup. Kaling, I think, is someone who has an original comedic voice so the pickup is pretty great news. The cast, featuring Chris Messina and Stephen Tobolowsky, is fantastic and the series has so much potential that it's good to see that FOX is giving it a shot. After all, The Office didn't catch fire until its second season.

Mindy got her start in 2003when she co-wrote the play, Matt & Ben. The play became a huge hit off-Broadway and was named one of Time Magazine's "Top Ten Theatrical Events of The Year". Following that, she appeared in an episode of Larry David's Curb Your Enthusiasm and the film, The 40-Year-Old Virgin with Steve Carell. Soon after, she landed the combo punch of writer/actor in The Office, the show she left to create, The Mindy Project.
Mindy recently joined in on a conference call where she talked about her many hats (star, executive producer, writer and creator), what a typical day is like for her and how she misses live theater.
The Mindy Project airs on Tuesdays on FOX 

There is such great chemistry between all the cast on the show. Was it instant, or did it take a little bit of time for everyone to gel since you're also their boss, kind of?
Mindy Kaling: I think it is a little easier for me now because I created the show I'm not shy around strangers because I in general either auditioned them or approached them for part so now I've been thinking a lot them before they started working with me, so for whatever reason that made me less shy.  … is still a little intimidating to me though, because he seems to me like the 70s era, like serious drama actor, like actually he stepped out of the French connection.  That vibe and my vibe is very different so he's still a little intimidating to me although I love him very dearly.
What do you think about Amy Poehler and Tina Fey hosting the Golden Globes? 
Mindy Kaling: It's so exciting.  I can't wait to watch.  I watch the Globes anyway because you get to see glamorous movie stars, and to know it will be legitimately funny in between.  Even when I watch the Globes I just kind of want to see cuts of Salma Hayek and cutting to Michael Fassbender or whatever, and now I'm ready for actual comedy in between the awards.
You have so much going on right now. You have the show and then I heard that you're also working on a movie that could possibly star Anne Hathaway.
Mindy Kaling: Yes.  I've been a fan of Anne Hathaway since as long as I can remember.  I mean she's been in—more than any actress I can recall, she's been in such different kinds of movies.  What I like about her is that this movie that I wrote, this part, which I had her in mind for a while, she's not playing like a gorgeous heroine, like the character is kind of pretty unglamorous, a little dowdy, and a little down on herself and I just like that she's into that.  One of my favorite movies is Bridget Jones's Diary because Renee Zellweger just totally goes for it in terms of being imperfect and is so funny and so sort of down to do that kind of thing.  I like that she can play Cat Woman, but is also willing to play this more like dreary part.  I mean, it's not North Country or anything, but like she's not looking like a sexy leading lady in this movie.
I think that's cool.
Can you describe a day in your life because you wear so many hats on The Mindy Project. You are acting in it, as well as, executive producing, writing. What is it like to be you in a typical day, right now?
Mindy Kaling: Typical day? Typical day is I wake up between 5:30 and 6:00 in the morning. I walk like a zombie to my shower and take a shower.  I have so much family and friends on the East Coast so they all have … and text from them.  Drive to work, listen to some Justin Timberlake in the car on way there.  Hair and make-up. My God, this is so boring I can't believe … discussion. I check in with the writers, they get in around 10:00 a.m. and I've been acting for couple of hours and am always excited to see them because when I get to work it's like a ghost town; it's like the walking dead when I first show up. There's nobody there except for me so I wait until they get there a little while later, I'm so excited to see them. I wrap, usually around five or six at night and in between writing stuff I will go check in with the writers and then I stay until between ten and midnight hanging out with them. It sounds like a long schedule but because it's my show and because I'm working with essentially all my best friends it feels like a very grueling vacation, if that makes sense?
There were things that male sitcom leads have always been able to do, like date a different hot woman every week that are harder for female leads.  Are you conscious about taking a risk by sometimes having Dr. Lahiri be obnoxious dating apparently a bunch of different guys?
Mindy Kaling: It's a ….  Curb Your Enthusiasm, which is one of my favorite shows, Larry David often acts in a very, what some people might characterize as obnoxious ways, but he's also doing what I think is something that most people who like the show are like, "Oh I wish I could do and but I never can."  Larry is doing what we wish we could do, so because you're Salma Hayek you don't think it's obnoxious?
My goal with the character is that she is doing stuff that we all—you know, women watching and guys watching it, they wish they could do that but they just can't.  When a man does it I don't know if you call it obnoxious, when a woman does it maybe it's rarer, so that's what it seems like.  I just wanted her to be really realistic and authentic.  So many of the female characters I see on TV are there just kind of put upon and kind of boring and they're so worried about viewers not being able to handle than … and occasionally selfish, but every woman I know can be occasionally selfish, and although can be heroic and funny.  I'm just trying to make her interesting and nuanced, and if some people think she's obnoxious sometimes then yes, people are obnoxious sometimes, I think, and they can still be like heroes, I guess.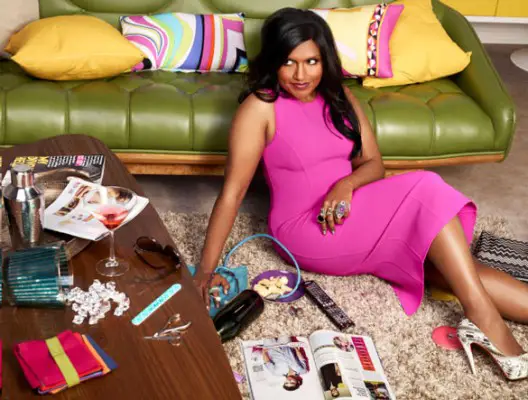 Was there one particular stereotype that you want to avoid when you were writing the show in terms of sitcoms that you've seen before?
Mindy Kaling: I think almost every comedy writer, at least on my staff, we have lists of things that we try not to do.  From someone who loves singing and dancing a lot, as evidenced on The Office, I don't think there's going to be a lot of singing and dancing on the show.  I also think that there's a trap that comedy writers can fall into which is like making things too metta. 
I really want this show to appeal to a really wide audience, so I didn't want it to be too specific or niche to just a really small group of hipsters in L.A and N.Y. would kind of understand or like.  I'm trying to think of other clichés.  In general, I just didn't want the characters to be stock, you know, I don't want a character to a bimbo or the sassy black woman.  Those are things you see sometimes and I think they're not very fresh.  I just try not to do stock characters.
Did you write for the actors on your show or when people got cast they kind of mold those characters to the actors?
Mindy Kaling: Well, I've been so lucky that the actors have really helped inspire a lot of the writing for the characters, especially Chris Messina; he's just an interesting guy and there are a lot of characters, Danny Castellano, that come from inspired from him.  In general I had a pretty specific idea of what I want the characters to be like and that kind of came before the casting.
You obviously had Ed Helms on the pilot episode, do you have any plans to bring Rainn or B.J. onto the show?
Mindy Kaling: Well, I love those guys and if our show were to be lucky enough to continue on for many years I can't imagine a world where I didn't ask both of them to be on the show.  With B.J., I see him a lot because he's one of my closest friends, so with him it's like when I'm with Ed I don't necessarily see him as much, but I miss him a lot.  So a good way to get to see him is putting him in the show and he's actually coming back in an episode that airs in a couple of weeks.  With B.J. it's hard because with Ryan and Kelly I didn't have that much screen time with Ed Helms on The Office.  I probably had four scenes all told in the six years we worked on The Office together.  But with B.J. all of our scenes are together in The Office, so since the show is still new I wanted them to see my character as my character rather than "Oh it's Kelly and Ryan again."  I think it will be a little bit longer.  I love him and I love working with him, so I'd like to see that in the future.
What's the key to being successful and wearing all those hats on the show? What do you do?  How do you get the team from going? How do they say, "Wait a minute, you're giving you too many of the good lines?"
Mindy Kaling: Well, the good part of it is I can't fixate on any one thing because there's too many things happening at once, so that's very good.  I constantly have to shift focus, which I think is really good in keeping me not fixating on things.  I have an amazing team.  I spent a lot of time hiring people.  It was really tough getting people out of contracts and things like that, so I spent a really long time hiring amazing writers, heads of department, all the actors and everything so that I trust them a lot so I can delegate things that I wouldn't normally necessarily do.  If it wasn't for that then I actually couldn't do this job.  I also every morning drink a blend of vegetables and fruits that's a disgusting green potion that I believe keeps me alive.  That's my secret trick is that I eat terribly so that's my little—that's the second part of the question is I could not do this job if I didn't have the weird green fruit and vegetables that I eat every morning.
How do you create kind of a creative environment for these people to shine?
Mindy Kaling: I am a very—I can be a very anxious person and I work very hard, but I'm not like a—how do I say this?  A lot of creative people can be a little mercurial, meaning they can like—I don't know.  I'm not that way.  I don't think—in general I'm a pretty cheerful person; I'm not a manic depressive writer.  My temperament is pretty even keeled, so I don't freak out, which I think is good, and I have seen that in the past. 
I have other bad qualities, by the way, …, but that one as a manager I think I don't have that.  I like having an easy set.  I hate fights.  I hate snippiness.  I hate sarcasm in the work place, and I also want to go home go and go on dates and hang out and party and stuff.  I would love if the series goes on for many years, if we're that lucky, to be able to have more of not one of these schedules where no one ever gets to see their families and things.
We have really long days because it's a single camera show and I'm not going to romanticize our long days, but that's because we're a first year show and we have to make it perfect.  I don't want that to be the case all the time.  I mean this is a job and I love this job; it's an amazing dream come true and everyone's working on it and it's great, but I want to live.  I wouldn't be a good writer or good actor if I can't see other things.  There's a tendency in this business to make it your entire life, which I don't want to do that.
I know you started writing for theater and I'm kind of wondering whether you like writing for T.V. more or if you ever miss writing theater?
Mindy Kaling: Well, they're both kind of grueling in their own way.  I miss theater because a live audience is so fun.  I mean you get such instant feedback.  When you're doing the show there is a little audience there is a crew and other actors and everything on the set, but largely you have to wait six weeks or whatever for it to air, and I do miss instant feedback; that is really fun.  But I have a little stage fright.  When I did plays I was always scared every single night and I don't miss that.  I really envy live performers.  I think it's a really frightening skill set.  My friend …, who's a stand-up comedian, it seems like every week he goes to a college and does an hour of stand-up, and to me that's incredibly daunting.
How similar is the voice of Mindy the character to your own voice, and how were we going to see it develop in the rest of the season?
Mindy Kaling: I think the character is pretty different than me, Mindy Kaling.  I have the lifestyle of a nerdy, boring writer; that's my lifestyle.  The character has a kind of a great glamorous job, and an exciting job, and a kind of even noble job … and loves to party and to go out.  I think that the character wishes she could do that, and … isn't able to.  We both had arrested development, I think that's where we're very similar, like both were nerds.  Elementary school, high school, college; that's where me and my character really differ, when she finished medical school she really likes to party, she likes to drink ,she is definitely more boy crazy than me.  Whereas I just don't have that in me, but I like writing that character; I think that's really fun.  If I wrote characters that was actually me and my life no one would watch it.  It would be ….
She puts herself out there, that's why I was like she's very confident and puts herself out there despite her flaws.  I'm not nearly so confident, which is why my character is so fun to play.