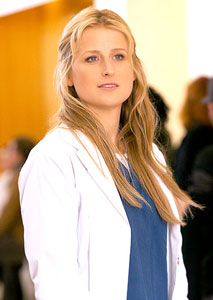 Mamie Gummer knows what it's like to be accused of getting parts just because she has a famous parent (her mom just happens to be Meryl Streep).  But Gummer notes that she wasn't given any special treatment in landing her new role in the CW series, Emily Owens, MD.
"For most people starting out, it's really tough," Gummer told USA Today.  "But it was the one thing I always loved to do.  Nothing can prepare you for the reality of the business side of it and what that life really entails.  I've seen it firsthand but my mom's experience, for as long as I've known her, has been pretty extraordinary.  She's had a lot of choices.  I don't think I could possibly be compared to her.  We look and sound alike.  But I can't get too hung up on that.  That would make anyone crazy."
The 29-year-old now finds herself faced with a difficult schedule and the pressure of being the face of her own series.  "I'm working 15 hours a day," she said.  "I'm in every single scene.  It does almost feel like you're on a medical shift.  You're just trying to keep it together.  Sleep is so precious.  I'm trying to go straight to bed when I walk in the door, but I'm having a hard time adjusting to the hours and am waking up in the night.
"The other night I woke up and as I was trying to fall back asleep, I thought, 'You have to put your head on the other pillow to match continuity.'  I was like, 'Oh Jesus, you're cracking up.  Keep it together, Gummer.'"
Emily Owens MD airs Tuesdays at 9 p.m. on the CW.