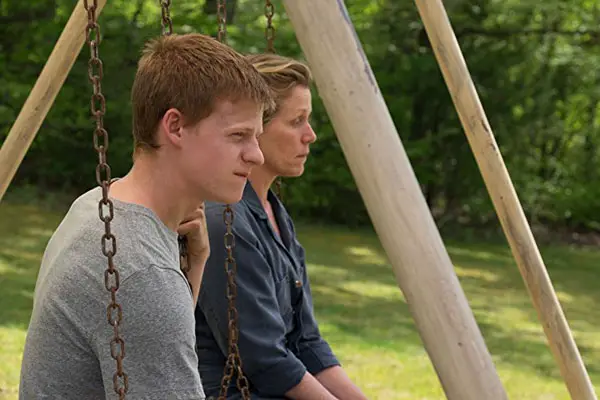 "If I don't go to work, I feel very lost and scared and confused." – Lucas Hedges on Acting
Lucas Hedges has followed his Oscar-nominated role in Manchester by the Sea with roles in two critically acclaimed films — this year's Lady Bird and Three Billboards Outside Ebbing, Missouri. In an interview with Vulture, Hedges spoke about his role in Lady Bird and shares thoughts on why he's been so successful in choosing roles.
Lady Bird director Greta Gerwig gave Hedges the opportunity to choose which role he wanted to play. He explains why he chose Danny, saying, "Well, the only two roles I could consider would be Danny and Kyle. I don't have enough confidence in myself to play that part, to play Kyle. I was like, if I do this I will make a fool out of myself, because no one's going to believe me."
Once Hedges selected the role, he had to get into character — and he was helped by Gerwig providing him with elements that would help him understand what she wanted out of Danny. He reveals, "She made me a playlist for Danny and gave me movie recommendations and a book of poetry. She gave me all these things that were reminiscent of that time and place in her life. To what extent that manifested in my being able to play a Sacramento kid, I don't know. I think if I put any effort into trying to be like a Sacramento kid, it probably would have come across as weird."
In early 2017, Hedges made his professional stage debut in the off-Broadway play Yen, for which he was nominated for the Lucille Lortel Award for Outstanding Lead Actor in a Play. While Hedges thought the experience would make him a better actor, he admits that it hasn't changed his perception of himself much. He explains:
It's interesting, because I thought that after I did the play I would think that I was a good actor, and thought that after a year passed I would feel like I would know what I'm doing. The weird thing is that I can get an Oscar nomination and still feel like the same exact actor who was at a theater program I went to four years ago. The world can change their opinion, but I'm still the same exact thing.

That excites me, and in some respects that terrifies me, because I feel like this responsibility to be a great actor, yet I have so much to learn. I absolutely want to get back to theater, but I'm about to go do a movie in like four weeks that my dad's directing, with me and Julia Roberts. So I'm gonna keep working. If I don't go to work, I feel very lost and scared and confused.
When the interviewer compliments Hedges on his role choices, Hedges explains that it's simply an extension of choosing roles that most interest him. He says, "I'm not going to audition for something that doesn't excite me. These scripts are really exciting and fortunately I've gotten the jobs. I do think I have very good taste, that I can say for sure. Hopefully that doesn't sound cocky or anything."