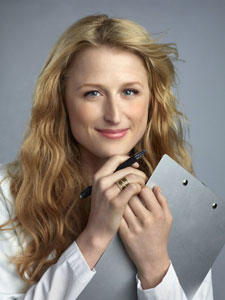 These days there's more to launching a new show than merely showing up for the premiere.  In the case of Mamie Gummer, star of The CW's new Emily Owens, MD, appearances at Fashion Week are also key.
"This whole idea of making appearances, it's become a business," Gummer told The New York Times.  "You're vying for people's focus and attention at a time when it seems anybody can get a little bit of fame."
Bumble Ward, Executive Vice President for Publicity at 20th Century Fox, admitted that being present in the fashion world is "all part of the game.  It's no longer, sadly, good enough to just be a brilliant actress.  It's not just about the movie, but what kind of double cuff is on your wrist."
Gummer, daughter of Meryl Streep, is accustomed to gaining attention for qualities other than her talent.  "A lot of people in this business just want to be noticed," she said.  "I spend a lot of time with my family trying not to be."
At least when Emily Owens, MD premieres on October 16, everyone will be watching Gummer actand not how good she looks sitting in the front row of a fashion show.