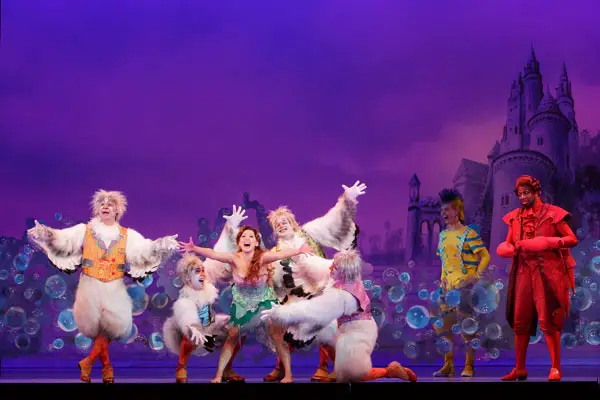 Disney's The Little Mermaid is docked at the Civic Theater this week and judging from the reactions of the kids in the audience watching Ariel (Diana Huey), Sebastian (Melvin Abston) and Scuttle (Jamie Torcellini) come to life, it's going to make a big splash here in San Diego.
The story is the same as the animated classic: Ariel, a young mermaid with a beautiful singing voice who has a penchant for disobeying her father, King Triton (Steve Blanchard) and his rules, especially when it comes to her curiosity about the world of humans. When she rescues Prince Eric (Eric Kunze) and falls in love with him, she makes a deal with the Ursula (the funny Jennifer Allen): she'll give up her voice in exchange for a pair of legs. With Sebastian, Scuttle and Flounder (Connor Russell), they have 3 days to try and help Ariel gain the Prince's love, or she loses everything to that big ole' meany, Ursula.
The musical is a kids dream come true: bright lights, fun sets and songs they know by heart. Plus, they get a chance to boo the evil Ursula to her face and witness Ariel floating effortlessly in the water and Scuttle fly through the air.
Huey, who's got a fantastic voice and has enough energy to power a city, is a perfect Ariel. Blanchard's Triton looms throughout the show and it's fun to watch him navigate the waters and floats up into the theater wings. And no one provided more laughs then Torcellini as Scuttle, who's also got the fun number, 'Positoovity', at the beginning of Act 2.
Leaving the theater, there were so many little ones dressed up for the show with huge smiles on their faces, this will be something they remember for a long, long time.
Disney's The Little Mermaid is playing at the San Diego Civic Theatre through Sunday. For more info: Broadway San Diego