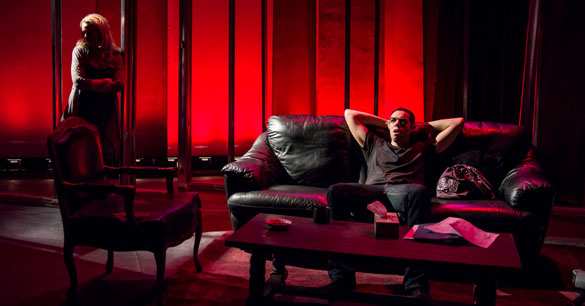 In recent years The Seeing Place has been pairing plays by different playwrights with thematic similarities together in repertory. Through hard work and persistence they have been granted the rights to a number of acclaimed plays, and the current productions maintain that high quality of material – Christopher Shinn's Dying City (nominated for the Pulitzer Prize in 2008) and Lee Blessing's Two Rooms (named Best Play of the Year by Time Magazine in 1988). While in the past I've often been most impressed by The Seeing Place's work with large ensembles, with Dying City and Two Rooms the company presents two one act plays with small casts in rotating repertory that equals their notable work with far larger casts.
The War in Iraqi might technically be the backdrop of Dying City, but one gets the feeling that the events of the play would have happened regardless of the political climate. Kelly (Erin Cronican) is the widow of Craig (Brandon Walker), an American military officer killed in Iraq. Several months later Craig's identical twin brother, Peter (also Walker) shows up unexpectedly at the apartment Kelly once shared with Craig. Peter, who is a ball of nervous laughter and seemingly on the verge of an emotional breakdown, has made several unanswered attempts to reach out to Kelly. Once she opens her door for him, Peter pours his emotional issues out on her and brings to her truths about her marriage to Craig that she never wanted to know.
Naturally one's first instinct is to pity Kelly for her loss of her husband, but flashbacks to the last night they spent together reveal that things were not left off in a state of marital bliss. What makes the play so moving is the subtext – not only is what happened to Craig in Iraq unclear, but even when Craig is portrayed in flashbacks his personality and temperament are downright perplexing. I've seen Walker play many characters who have a double life, and in this play he ups the ante by playing two characters with double lives. It might be subtle, but he does a lot more than put on a coat in order to distinguish the two. Despite appearing identical, Walker portrays both characters in wholly different ways through body language and vocal inflection.
Cronican spends much of the play reacting rather than acting. She is constantly in a state of being uncomfortable around both Craig and Peter regardless of the time period. Kelly is the character with the slowest burn I've ever seen Cronican portray, all told by her body language. Her actions – from doing menial tasks in the kitchen to the way she carries herself around Peter – tell the audience far more than anything her character says.
Lee Blessing's Two Rooms is more overtly political than Dying City, and though it was first produced in 1988 there is nothing in the content that makes it any less timely than it is now. Michael (Logan Keeler) is an American working in Beirut who is held hostage by terrorists, and his wife, Lainie (Alexandra Hellquist), helplessly waits for him to be released. Working on their behalf is Ellen (Lila Smith), an employee of the U.S. State Department who admits that the government's hands are all but tied but still urges Lainie to hope. Playing devil's advocate is a reporter named Walker (Justin Hoch), who pushes Lainie to force the government's hand by speaking out to the press about the State Department seemingly doing nothing for Michael. In the meantime, Lainie strips her room of furniture and sits in darkness, claiming that she can feel Michael's presence when the room is in this state of emptiness.
It's easy to view Smith's Ellen as the villain of the play even though she speaks so often about being hopeful, especially once Lainie's intentions begin to side more with Walker. But even when Ellen delivers a cold presentation on terrorism halfway through the narrative it is impossible to ignore the logic behind her words. Michael's captors aren't a nation that has an embassy affiliated with the U.N., they are a horde of terrorists whose reasons aren't entirely clear. There are points when Ellen is forced to admit that she doesn't know where Michael is at that current moment. Certainly there are also delicate issues of U.S. foreign policy involved. Simply put, this isn't a case of sending in the Marines for a rescue mission. One wrong move and the lives of Michael — and perhaps dozens of others — could be ended.
Because of this, Smith deserves a heap of credit for portraying a character who is at times is calculating and at other times shows degrees of warmth. It would be easy to present Ellen as a two-faced bureaucrat, but Smith portrays her on a fine line between true emotion and professional necessity. Smith demonstrates that Ellen feels something, even if her job and her body language insist that she feels nothing.
On the other hand, while audiences might be quick to take the side of the rabblerousing reporter Walker he is often more emotionally condescending toward Lainie than Ellen is. At times it even seems like he is holding Lainie hostage as she goes through her stages of grief. Does he really mean well, or does he see Lainie as a means to advance his career? Is he becoming more emotionally attached to Lainie, or is preying on her vulnerability? Audiences might be quick to rally with Walker against a seemingly do-nothing government, but like Smith Hoch carefully tows the line between hero and villain. Keep your eyes on him for the quizzical ways he reacts to Lainie and Ellen's words – his character might be louder, but Hoch effectively hints that  Walker is even more deceitful than Ellen is at her worst.
Of course, the narrative revolves around the captured Michael. Keeler spends nearly the entirety of the play downstage right as the domestic events happen on the rest of the stage. Periodically he speaks to Lainie in the form of "letters" he is writing her, and as the months pass the "letters" become more erratic. It's doubtlessly difficult to express oneself when you are blindfolded, handcuffed, and confined to twelve square feet of space on the stage. On top of that, most of Michael's dialogue is in monologue. Because of that, Keeler has both a challenging and thankless role, a one-man show alongside a just-as-compelling three-person play.
Yet in a way, Hellquist's Lainie is also blindfolded, handcuffed, and confined. She can't see her husband, she can't do anything to bring him back, and she refuses to leave the room that she feels the connection with him in. Hellquist makes this torment apparent without making it too obvious. Her character struggles – between hope and reality, optimism and pessimism, fear and desire – that it is doubtlessly emotionally draining. After seeing what her character goes through, I was glad to see a smile on Hellquist's face once the play had ended because I could finally separate the actress from the devastated character.
The productions share the same set (through naturally Two Rooms has far fewer props) and much of the same production teams aside from direction. Because they are thematically similar this works in many ways, particularly when it comes to lightning. I can't be the only one who noticed that the three main stage lights are red, white, and blue. That's definitely a job well done for lightning designer Duane Pagano.
As usual with the productions done by The Seeing Place, I strongly recommend seeing what's happening onstage at this little theater in Hell's Kitchen. However, this is the first time I would suggest not seeing both productions in the same night if you could help it – because of the emotional depth of both plays it makes for a long night at the theater. Of course, it makes for a satisfying night, but as an experience it would probably be more effective to spread out for full emotional effect.
Dying City and Two Rooms run at ATA's Sargent Theater (314 W 54th Street, New York) until March 9. Performances run Wednesdays through Sundays. Check out http://www.seeingplacetheater.com for more information. Photo credit: Russ Rowland.