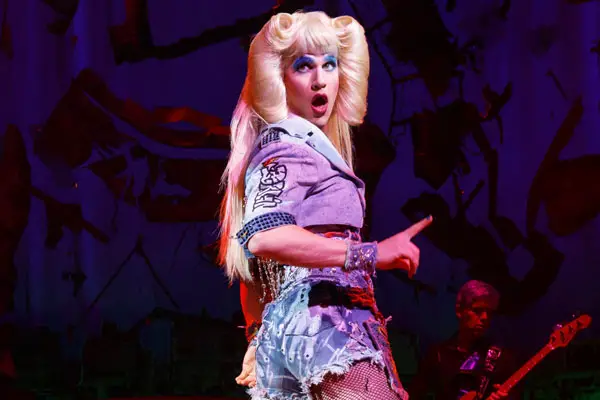 SHN Golden Gate Theatre, October 14, 2016.
Darren Criss steps into Hedwig's high heels once again to bring to life the rock musical originally conceived by Stephen Trask and John Cameron Mitchell. Criss has previously played the role on Broadway in 2015, and now headlines this first leg of its U.S. tour, with Lena Hall reprising her role of Yitzhak, Hedwig's long suffering husband.
For those not familiar, Hedwig and the Angry Inch tells the story of Hedwig- originally born as Hansel Schmidt in East Berlin, and her botched sex-change operation which left her with nothing other than an 'angry inch.' The story is told entirely by Hedwig, through a number of uplifting and energetic songs, as well as a biting, hilarious, yet poignant monologue. As Yitzhak, Hall's role requires little in the way of dialogue but plenty of storytelling through looks and mannerisms alone. Well used to the role from Broadway, Hall does this comfortably and well, and when she does get her moment to shine, she lights up the whole stage. Her vocals are great, but it's the depth of emotion she brings to her role that makes it stand out.
As for Criss; the role of Hedwig is fiendishly difficult to play. She is bitter, angry, emotional and desperate to be loved and accepted. She has an acerbic wit, which, while it can be outright hilarious, can also be cruel and biting. For the most part, Criss nails this. He's been very vocal about how much he loves this role and it shows; he is quick off the mark with well-rehearsed comebacks and gags, and a couple of new ones have been added since the show's Broadway run, including a dig at his former Glee co-star, Lea Michele, as well as a joke about Donald Trump that had the audience cheering loudly.
Having seen him in the role on Broadway, I felt as though Criss played this one much more for laughs; which meant he sometimes failed to completely deliver on the stinging pain and hurt that Hedwig feels. Again, it doesn't necessarily detract from what is essentially a fantastic show, but a little more emotional depth wouldn't go amiss at times. All of that said, it's hard to perhaps deliver that when an audience is so lively and attuned to humor as last night's crowd was. Even the riskier jokes, such as the one about losing an Uncle at Auschwitz (he fell from the guard tower) got a big laugh rather than the stunned "ooh's" that I've previously heard.
Criss' vocals are once again spot on; this is a man who can deliver a stunning vocal performance time and again. Not all of the notes hit home each and every time, but it's a negligible few that are dropped, and honestly, they're delivered with such conviction that it fails to matter.
Criss embodies Hedwig completely; from the flawless German accent (that is much easier to understand than it was on Broadway), to the mind-boggling high kicks that make your eyes water just watching them. He is also fantastic at switching between the different characters during his narration; his Luther and Tommy Gnosis are particularly good and the final song; "Midnight Radio" is stunning.
Criss is entirely captivating from beginning to end, and delivers a truly enjoyable show which the audience in his native San Francisco thoroughly enjoyed.