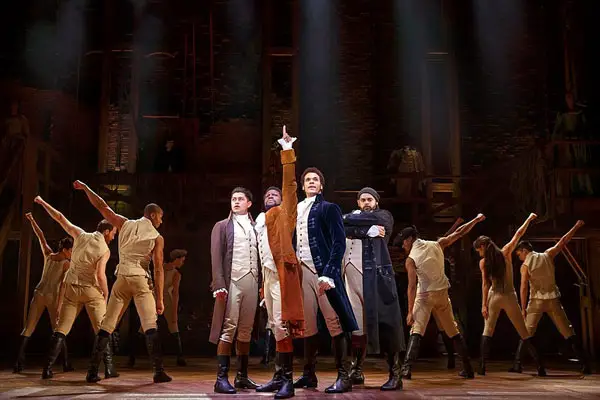 If you're wondering whether or not Hamilton lives up to its hype, worry no more. It does. It absolutely does.
It's always odd to see show after hearing so many excellent things about it. Lin-Manuel Miranda's Hamilton first premiered off-Broadway at the Public Theatre in 2015 and quickly transferred to it's current Broadway home, the Richard Rodgers Theatre. From the moment the house lights went down on its very first show, it's been getting rave reviews and selling out show after show. So, it's only natural to question weather it lives up to all of the raves we've been hearing about. It's pretty rare and special when something as big in the cultural landscape as Hamilton not only lives up to the hype but actually surpasses it. It's also funnier, sadder and more intense than you think.
And it's also rare, when watching a touring version of a popular show, that the thought of wishing you could see the original cast perform vanishes from your head a few minutes into the performance. The leads are fantastic: Austin Scott as Alexander Hamilton, Isaiah Johnson as George Washington, Rory O'Malley as King George and Jordan Donica as Lafayatte/Thomas Jefferson knock their roles out of the park. And in our show, the understudies stepped up and into the roles of Eliza (Raven Thomas) and Aaron Burr (Ryan Vasquez) and both killed it. Each cast member is beyond terrific and each one has a phenomenal voice. To say that there is one particular stand-out actually does a disservice to the cast because this is a true ensemble. So much so, that when the cast takes their bows, they all line up in a single line, demonstrating that they too know their power comes as one cohesive unit.
The show is about, obviously, one of America's founding father's, Alexander Hamilton. An ambitious man with a tireless work ethic who rises up from Caribbean immigrant to George Washington's most trusted lieutenant to steering us to the America we know today.
Directed by Thomas Kail with book, music and lyrics by Miranda, this is truly a show not to be missed.
For more information, visit Broadway San Diego