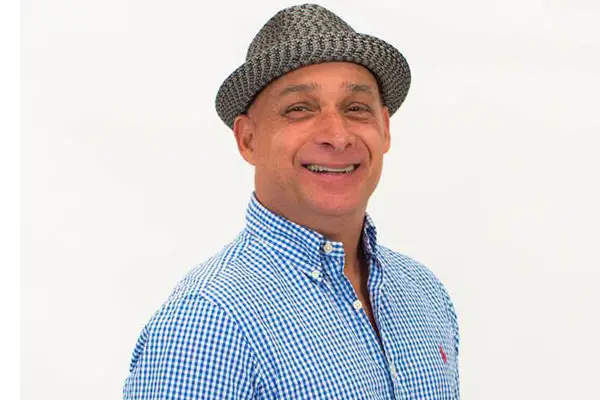 What happens when a down-on-his-luck producer, Max Bialystock, and a timid accountant, Leo Bloom, try to pull off a get-rich-quick scheme by putting on the world's worst Broadway show? Madness! Now's your chance to see that madness as San Diego Musical Theatre brings Mel Brooks' terrifically funny musical, The Producers, to the Spreckles Theatre.
Broadway veteran and San Diego native, Jamie Torcellini, directs the show and when he talked about the cast, he told me that he was especially excited for audiences to all of the local talent on stage.
The show stars John Massey (Max), Bryan Banville (Leo Bloom), Siri Hafso (Ulla), Russell Garrett (Roger De Bris) and Luke Harvey Jacobs (Carmen Ghia). Each actor kills their role in the show and I should know because I play Franz Liebkind, the crazy Nazi, and I get to share the stage with them!
I talked to Torcellini about the show and cast, his time as a young actor in New York City and his worst audition ever.
'The Producers' previews this Friday and opens on Saturday, September 24 . The show runs through October 9. For tickets: San Diego Musical Theatre
 You know, after working with you so many weeks now, I can honestly say that I can't imagine doing this show with anyone else. You seem so perfectly suited to direct the show.
Jamie Torcellini: You know, I don't know about that. I feel like I'm learning at the same time as you guys. I think I understand comedy moments, especially when it deals with actors in storytelling and I think together, we've sort of landed on a nice style of it for us. It works really well for us and I love that everyone's finding their comedic moments in their own comedic style.
What I like about you is that you're very technical with comedy. You'll come up and say, "I want you to take three steps and then turn," as opposed to two steps. And then when I do it, it works and it immediately feels right. Like, "Why wasn't I doing this before?"
Jamie Torcellini: I think it's probably something that you would notice if you were sitting out in the audience because I don't always get that either when I'm on stage. I know I want to be clean, but I don't always understand how to make it clean when I'm on stage. It's easier for me to see it when I'm out front.
I knew this was a big show but I didn't realize how big it was until we moved into the theater.
Jamie Torcellini: Oh God, it's mammoth. It's almost why I went running screaming when they asked me about it because I've seen it a lot but I've never done it, never worked on it. And Susan Stroman I've known since the early 80s. I went to see it when they opened at the Pantages, I have a lot of friends that starred in it, and I was there as a guest of one of my friends husbands. I ran into Susan in the lobby and she said, "Jamie, I always want to call you and for the show but you're between the cracks. The show is perfect for you but you're not tall enough to be Roger De Bris and you're not big enough to be Max. So, I feel like you're between the cracks." She said, "The only thing that I keep thinking I should call you in for is Carmen Ghia." And I looked at her like, 'Oh, please.' That's the one role I just didn't really want to play.
Why is that?
Jamie Torcellini: I just think that's a really hard part and I also don't see myself is Carmen Ghia. It's a very specific part. Also my type, I don't have the right type. But when you were hired, did you think you were the right type?
Looking at most of the who played Franz, they're much bigger than me. But then I went back to the original movie and Kenneth Mars was tall and thin.
Jamie Torcellini: But very tall and Kenneth Mars is probably certifiable. He is one of those actors that has little bit of cray cray in him that makes him perfect for that part. And I thought that when you came in that was one of the things that I loved the most, aside from the fact that you gave the best audition for that role, I think you understood his sensibility and it's very Mel Brooks. I think Franz is a fun part to play because you don't have the weight of the world on your shoulders but you have your moments.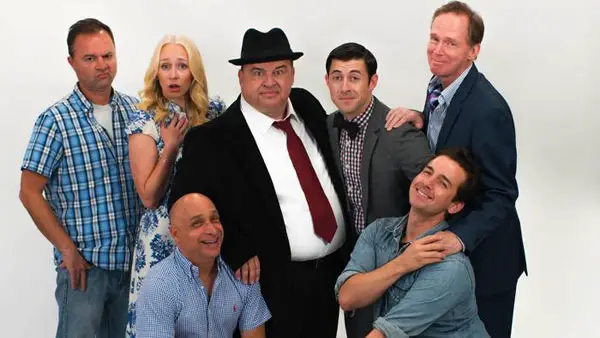 I'm having a fantastic time, yeah. And, I think, the cast is such great group of funny, talented actors.
Jamie Torcellini: Oh God, yeah, I do to. I'm very, very excited.
As a director, you sort of have to cover your bases and think outside of the box, and I said, "Please call Siri [Hafso] in." I know she's not tall but nowhere in the script says that Ulla has to be tall, it's just always cast as someone tall when they're doing the Susan Stroman version but it doesn't necessarily have to be. She's fantastic.
And I also knew that I had to see Brian [Banville] because I've worked with him before and he always impresses me and I thought, 'you know what? It's time for him to get the responsibility of a big role because he can do this.' And he's terrific.
He is terrific, yeah. I love being on stage with him.
Jamie Torcellini: So, I'm really excited. I'm really excited for San Diego to see those people to step out, you know? And that's what I like about this company the most is that they do utilize local talent.
How do you like coming back to San Diego to work?
Jamie Torcellini: I love being in San Diego but it's sort of a two edge sword for me. I love being here but at the same time it's depressing because when I'm in a show and I'm working down here, I have a lot more time to see my family. And when I'm directing a show, I have no time because I have to go home on the weekends because life doesn't stop just because I'm here. And I'm working when you guys aren't, so even though your call time is only at night, I'm going all day. I have to be there or I have to at least weigh in with all these emails. There's just a lot more to it, that's all. There's just a lot more to it than you think. And when we have to put all these elements together at the same time, it's fast and furious and some people love it but I don't necessarily love that part. I love playing with you guys in a room and deconstructing a scene and finding out what works best and keeping it fast and furious and witty. That stuff is fun for me. I love that.
You grew up here in San Diego when did you moved to New York?
Jamie Torcellini: In 1979, A Chorus Line came through town and I auditioned. I got the show and they said, "Say your goodbyes and pack up because you're coming to join us in two weeks." So, in 1979, I went on the road with A Chorus Line and I never came back. I moved to New York right after that.
What's it like being a working actor New York City? I think that would be like a dream.
Jamie Torcellini: Yeah, actually it was. For me, it was different than what a lot of my friends had experienced because most of my friends saved up some money and they'd go and then they looked for a job to keep them afloat while they look for theater job. But I had moved out of my parents' house to go on the road and make some money being on tour. So, I had the tour money and when I got to New York, the first day I was there, I auditioned for Radio City Music Hall and I got it. It was just one of those freak things that I started the day I got there. It wasn't the job I ended up thinking that this was something that I wanted to do the rest of my life, but I did it for almost a year. I did both shows back to back, I did Radio City Music Hall, the Christmas show and then the spring show.
And then one of our dance captains from that show said, "You know, you're really right for This Little Johnny Jones and I told the choreographer about you and he wants to see you." So, I went in and auditioned and I went right on tour with them. It's one of those things I was is very, very lucky, I was in the right place at the right time and I had the skills that were required for that particular job. I got pretty lucky.
And it was, to answer your question, really freaking exciting to be in New York and be a working actor because I didn't have any bills, you know? I paid off my college tuition when I was on the road with A Chorus Line, so I had no bills except my apartment in New York.
What was your worst audition ever?
Jamie Torcellini: God, there's been so many. I really am a horrible auditioner. If I'm being honest, I'm really am bad. There've been so many, you know, where you learn the song but you don't know it well enough and not only do you screw up the intro but now you're up on the lyrics and not even doing what you planned with the song.
Probably the worst one for me was when I went in for Singing in the Rain and they called me in for Don Lockwood. I had already been choreographing about five of my friends auditions for Singing in the Rain. The requirement was that you had to have a choreographed tap routine that you would come and perform and a lot of my friends didn't tap and they didn't choreograph tap, so while I was on the road with Cats, I was choreographing all of my friend's routines. And I called my agent and I said, "I'm doing all this work for my friends but I don't have an audition. Can you get me an audition for Cosmo?" And they said 'sure' but they called me in for Don Lockwood, not Cosmo. And I'm like, 'Well, I'm no Don Lockwood,' that I know.
I literally went in just before Don Correia, who ended up getting Don Lockwood. He was my dressing roommate in a show that we had done in the early 80s. And he's perfect. So, I walked in and Twyla Tharp was there and she already had slammed her hands down on the desk because I'm the wrong type. I was pretty young, I was 24, and I said, "So, I realize that you called me in for Don Lockwood but I'm here to tell you I much more right for Cosmo. I've put together an audition for that because I think somewhere along the line we made a mistake and now that you see me, of course, you know." So, she got up, she was having a fight with the casting director apparently because they had called people that were pretty wrong. She got up out of the table, this was Twyla Tharp, and she stood with her arms folded in the corner, facing the corner, not looking at me. And I looked at the piano player and said, "What do I do now?" And he shook his head said, "Just sing the song." So, I sing the song, I did my tap dance and I was really proud of it. The guy who was playing my audition was my musical director for Cats, so I had my own piano player and I did my own arrangement and it was fantastic. I was very proud of that audition and she didn't see one second of it because she stood facing the corner and I thought, 'you're punishing me for whatever fight you're having or maybe you just really hate me.'
That might've been the worst because it still stings to this day that Twyla Tharp saw fit to stand in the corner with arms folded not watching my audition. I know I'm wrong for Don Lockwood, don't get mad at me! That was horrible!
For tickets and info: San Diego Musical Theatre