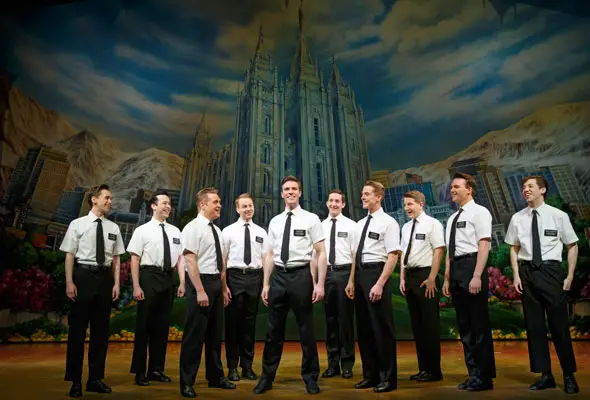 I was lucky enough to see the original cast of The Book of Mormon when it played on Broadway. It was one of the best shows I'd ever seen and to this day it's still one of the top five Broadway shows I've ever seen.
The new touring production that just came to the San Diego Civic Theatre had a lot to live up to in my mind and they definitely did. It was terrific! And judging by all the laughs, the audience that packed the Civic Theatre thought the same thing.
For those not in the know, The Book of Mormon follows two young missionaries, Elder Price (Billy Harrigan Tighe) and Elder Cunningham (A.J. Holmes), as they attempt to share their scriptures with the inhabitants of a remote Ugandan village. Elder Price is an enthusiastic go-getter with a strong dedication to his faith, while Elder Cunningham is a well-meaning but socially awkward geek whose has a habit of telling whoppers of lies. When they get to Africa, Elders Price and Cunningham find the locals disinterested in their message and more concerned about more pressing issues. You know, like AIDS and getting killed by the local warlord.
Holmes is hilarious and his Elder Cunningham is the real heart of the show. You know that even when he tells a whopper of a lie, he always means well and you can't help but root for the guy. Tighe does a great job making Elder Price, an uptight guy who is really only looking out for himself, into a likeable figure. And he's got a wonderful voice that truly shines in his song, 'I Believe. And to add to the mix, Alexandra Ncube, as Nabulungi, was equally wonderful; sweet, energetic and her voice is outstanding. The rest of the cast is top notch and each actor has their chance to shine.
With a book, lyrics, and music by South Park's Trey Parker, Matt Stone and Frozen's Robert Lopez, it's one of the most offensive and funniest shows you'll ever see. It's also got some of the catchiest musical numbers that you'll be humming in the car home and days after.
Hasa diga eebowai!
The Book of Mormon is playing at the San Diego Civic Theatre until March 6th. For more tickets and more information, visit BroadwaySD.