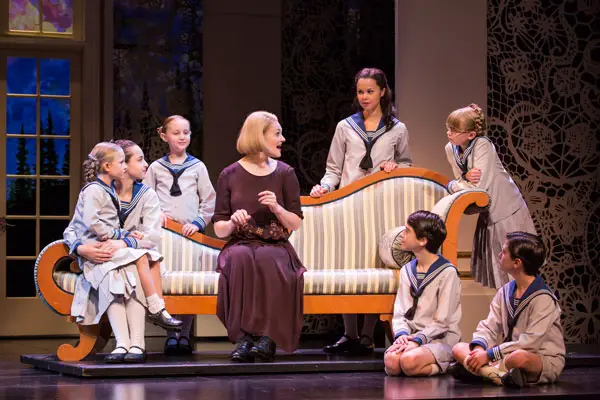 As a musical theatre lover, I'm ashamed to say that I'd only seen The Sound of Music twice. Once was at a dinner theater and it was as good as you can imagine. At least they had good vegetable lasagna. The second was the terrible NBC version with renowned actress Carrie Underwood. I've never seen the classic film, so I never really understood why it was so beloved by everyone.
That is until last night when the curtain rose on the new touring production of the show, which is now playing at the San Diego Civic Theatre. The Mother Abbess, played with humor and warmth by Melody Betts, opens the show with her powerhouse voice that fills the theatre, and like the rest of the audience, I was all in.
Maria (Anna Mintzer) is assigned by Mother Abbess to become the governess to Captain von Trapp's (Ben Davis) seven children. The two eventually fall in love but when the Nazi's take over Austria, the family devise a plan to escape the country.
As Maria, Mintzer is innocent and enthusiastic and she wins you over in her first scene. You're automatically rooting for her, whether it's one-upping the children or when she and the older von Trapp are cautiously flirting with each other. Davis' von Trapp is a study in efficiency; every movement seems calculated and sharp. He's a perfect match for Mintzer's energetic Maria. The children are a talented lot, especially Paige Sylvester, who plays Liesl. She, incidentally, gave a fun speech at the end of the night asking for donations to the Broadway Cares/Equity Fights AIDS fund that made you like her even more.
The backdrops are gorgeous as well. The mountains have every bright vivid color in the spectrum and they pop to life every time they're on-stage. There is also a scene where Maria and Captain von Trapp get married in a cathedral, the backdrop is so vivid and 3D-like that it almost feels like you can tough it.
The show, directed by three-time Tony Award winner and former Old Globe artistic director Jack O'Brien, feels brisk and much quicker than its 2-hour and 50-minute run time.
The Sound of Music is now playing at the San Diego Civic Theatre. For tickets: Broadway San Diego