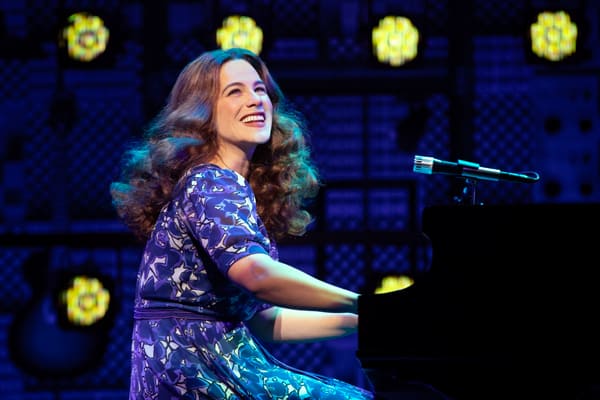 Beautiful, The Carole King Musical is one of those rare shows where every single thing has come together perfectly. Director Marc Bruni has merged King's obviously brilliant music, Douglas McGrath's book, terrific casting, and lighting and set design into a truly fantastic show that is enjoyable from start to finish.
The story opens with King (Sarah Bockel) as a high-school student who brings one of her songs to legendary producer Don Kirshner (James Clow). He hires her on the spot, pairs her with songwriter Gerry Goffin (Dylan S. Wallach), and the two immediately hit it off, in both writing songs and the romance department.
Before long, the pair are turning out hit songs, getting married and having kids.  But life, as it happens, isn't always full of roses. Goffin begins to stray and starts spending time with some of the female singers that they've written hit songs for. Eventually, they part ways and which spurs King to write her legendary album, Tapestry.
Jukebox musicals can sometimes be cookie cutter affairs. They're mostly song, life event, song life event, repeat. But the great thing about Beautiful and McGrath's book is that it brings King's friends, songwriters Cynthia Weil (Alison Whitehurst) and Barry Mann (Jacob Heimer) into the story. They're not just secondary characters either. The two are a big part of the show and the audience are as invested in them as they are in King and Goffin.
The show wouldn't succeed though without the actors and each in each one, from the ensemble up is wonderful. Bockel has King's voice down and is immensely charming in the role. Wallach is equally good and even though he's the one who has caused the marriage to break up, everyone is still rooting for him. Whitehurst and Heimer, both bursting with personality, bring old school fun and wit to their roles. And Clow and Suzanne Grodner as King's mom top off the great work by the cast.
With songs like 'Take Good Care of My Baby', 'Will You Love Me Tomorrow', 'One Fine Day', 'Pleasant Valley Sunday' and her later hits, 'It's Too Late' and 'You've Got a Friend' in the show, it's hard not to walk out of the theater with a smile on your face.
Beautiful, The Carole King Musical is playing at the San Diego Civic Theatre through Sunday. For more info: Broadway San Diego