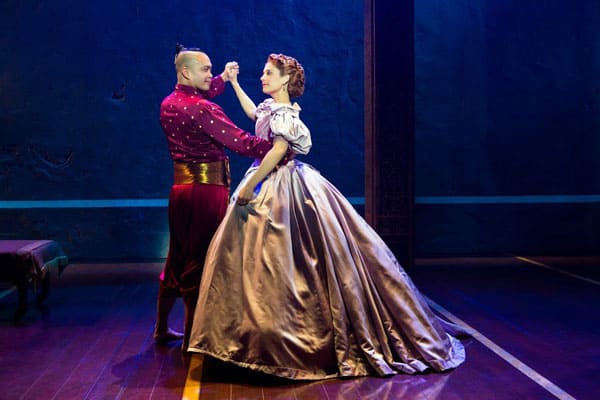 As the curtains are drawn at the beginning of The King and I, now playing at the Civic Theatre, is the gorgeous set design and lighting. A huge boat comes floating across the stage in front of a beautiful fire-colored sky. It's a sight to see and that's just one of the many vivid images that Michael Yeargan (set design) and Donald Holder (lights) has in store for the evening.
The show, which won 4 four Tony Awards in 2015 – including Best Revival of a Musical – is one of the many classic Rodgers and Hammerstein musicals, yet it's kind of an anomaly in their catalogue. It doesn't open with a rousing ,usical number and the ending is, let's be frank, a big downer. That being said, it's a classic for a reason and it's definitely something you'll want to check out.
Set in the 1860's, the story follows a British schoolteacher, Anna (Elena Shadow)and her son, who leave England for Bangkok. She's taken a new job as teacher for the children and wives of the King of Siam (Jose Llana), who has made it his goal to bring his country into the modern world. As they spend more time together, through fights and laughs, they form a bond that, no matter what happens, endures to the end.
Shadow is a wonderful Anna. Her voice is beautiful and she brings an updated, modern twist to Anna. As the king, Llana brings both humor, wit and rage to the role. And when they're together, they make quite a pair.  Especially during smile-inducing number, 'Shall We Dance?'
Director Bartlett Sher does a terrific job of keeping up the pace in a show that has known to be a bit of a drag. He gets a big lift from choreographer Christopher Gatelli, who's numbers are brisk and fun to watch.
The King and I is playing at the San Diego Civic Theatre through Sunday. For more info: Broadway San Diego