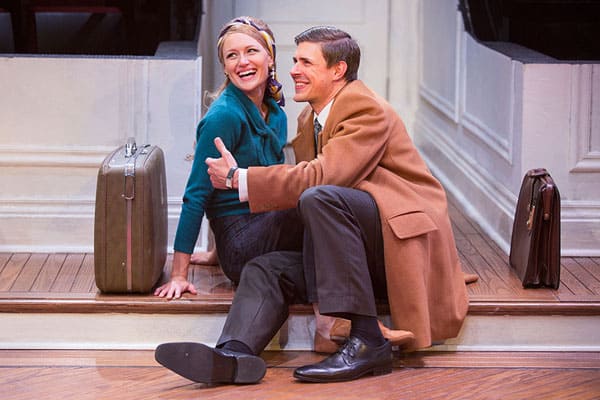 Love can make many things more wonderful and magical and BAREFOOT IN THE PARK, playing at the Old Globe's Sheryl and Harvey White theatre in the round, is a charming homage to those first heady days of marriage, and what happens when reality starts to settle in.
Paul (Chris Lowell) and Corie (Kerry Bishé) are newlyweds, just moving into their apartment straight from their honeymoon at the Plaza Hotel. While Paul went to work, Corie was busy trying to get everything in order before he comes home and sees the unit for the first time. Unfortunately, love may make some things more delightful but climbing six flights of stairs to the tiny top floor apartment doesn't seem to be one of them.
Paul, a lawyer and the more logical of the pair points out the lack of heat, the bedroom barely fits a bed, the broken skylight, and that the chance of snow is very high in February in New York. Corie is the optimistic and dreamy free spirit who only sees the romance and possibility for adventure in their situation.
They have an eccentric neighbor Victor (Jere Burns), who occasionally needs access to their unit to climb out the window to get into his unit and seems to have the same lust for adventure (and lack of some common sense) that Corie responds to instantly. So she plans a dinner party with Victor and her mother Ethel (Mia Dillon) hoping it helps her mother, a recent widow, find a spark in what Corie considers a very boring existence.
Bishé is bubbly as Corie a charming flibbertigibbet, who seems to live and breathe young love as she throws herself into married life. Her delight at each new thing is endearing; who doesn't love presents being delivered or having their own beige, light up, princess phone installed by the phone company?
At the start of the second act she literally captures the charm and whimsy of the honeymoon period when all sorts of magic is possible. Bishé's energy never flags, which is impressive as Corie never seems to take a breath as she jumps from one plan of action to another. She works hard to keep Corie just on the edge of high-spirited and jubilant, while not letting the character become annoying which could easily happen.
Lowell is winning as Paul, a lawyer anxious to win his first case. He loves his wife but lives in a reality that does not allow for the same magical thinking in which Corie indulges. His slow burn through the show takes him from in love, to sleeping on the couch, to a hilarious drunken appearance. Even in the midst of their famously funny fight in the second act Lowell keeps Paul charming even when angry as he warns Corie "You stay here or you get no divorce from me."
Dillon as Corie's mother Ethel is appealing as the audience sees her loosen up from her more straight laced routine thanks to the neighbor Victor. Burns as Victor is the epitome of a suave and cultured flirt, with many entertaining stories and a flair for the dramatic.
Jake Millgard brings humor and empathy as the telephone repair man who keeps finding himself a witness to the couple's discussions.
Directed by Jessica Stone, this play is bright and bubbly and while firmly set in the 1960's find relationship moments that still ring true today. The set designed by Tobin Ost turns the in the round theatre into an endearing Upper East Side apartment with a bathroom and a kitchen tucked away into the corners. The costumes by David Israel Reynoso are classic and clever.
Admittedly, it is hard in this day and age to make other parts of this play seem as relatable. Corie is a new wife in the 1960's, which means she has nothing to do all day but play house? An apartment in New York that only costs $125 a month? A landline?
The time period is just far enough away from present day to be an adorable period piece, but also close enough to present day to seem like a fantasy.
BAREFOOT IN THE PARK is an irrepressible comedy that proves while the honeymoon has to end sometime, the love and marriage are here to stay.
Playing through September 16th you can find ticket and show time information go to www.theoldglobe.org