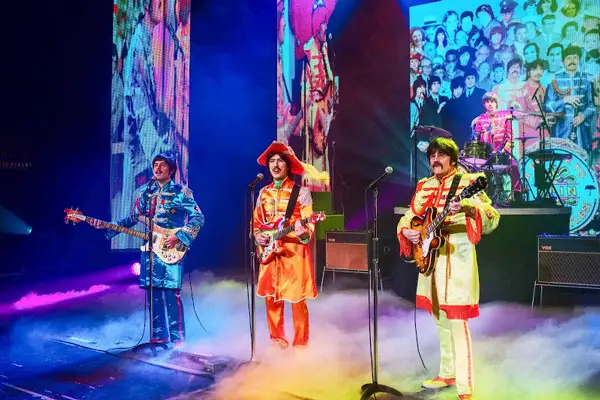 As it says on the poster, Rain: A Tribute to The Beatles is the "next best thing to seeing" the iconic foursome. And whoever wrote that nice little quote is exactly right.
Now playing at the Balboa Theatre in Horton Plaza, Rain is so much fun that you're guaranteed to be listening (and singing along) to the band for days to come. The show is packed with all the songs you love and with the show getting a bit of a revamp since the last time it visited San Diego, it's well worth another look. It's more interactive, with the audience choosing one of the 2nd Act songs and audience cams (I saw myself on screen more than once). It's also more colorful, from the costumes to the set to the lights. The brighter set makes the whole evening much lighter and more energetic than last time I saw it.
For some reason, the program doesn't list who played who in the show – rights maybe? But I'll help out and give them a hat tip because they were all terrific: Steve Landes (John), Paul Curatolo (Paul), Joe Bithorn (George) and Ralph Castelli (Ringo) with an assist on keyboards from Mark Beyer. From the looks of it, they were having as much fun as the audience, especially Curatolo. He channels McCartney and the audience was eating it up.
As far as I could tell, the show is in chronological order (I'm no Beatles historian, so don't quote me on that), with the band singing songs from their first albums, to their appearance on the Ed Sullivan Show and their Shea Stadium concert. It moves to 'Sgt. Pepper', 'Abbey Road' and their final album, 'Let It Be'. Each time switch comes with costume changes, actual commercials from that time and a brief synopsis of what was going on in the world.
For a night out downtown, you can't go wrong with this Rain!
'Rain' is playing at the Balboa theatre through April 3rd. For tickets and showtimes: BroadwaySD