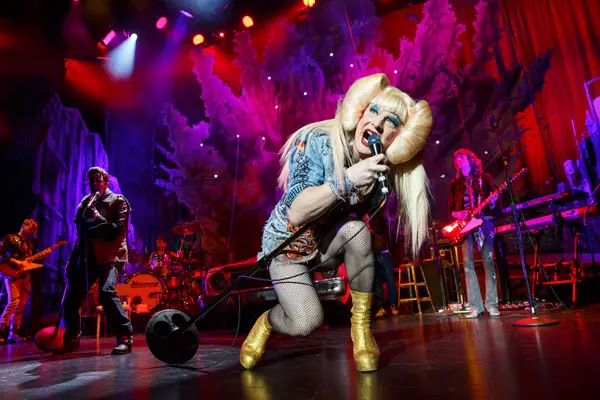 The National Tour of Hedwig and the Angry Inch got two new leads when it opened here in San Diego this week and both are terrific. Taking over for Darren Criss and Lena Hall are Tony Award nominee Euan Morton and Hannah Corneau and as a Hedwig newbie, it'll be hard to get them out of my head if/when I ever see the show again.
I barely knew what the show was about or listened to any of the music (I know, I'm a bad theatre lover!), I wasn't sure what to expect. Its equal parts rock concert, therapy session and journey of Hedwig (Morton), an East German singer who had a mishap during a sex-change operation.
She and her band, which features her husband Yitzhak (Corneau), have taken over the theatre because, as it turns out, The Hurt Locker, a new musical that didn't run past the first act, has closed. (When you get to the theatre, be sure to look for the discarded Playbill's for the now closed show.) Through music and rants (often very funny), we learn Hedwig's story; how she fell in love with a man, had a horrific sex-change surgery, moved to America and fell in love with a future rock star.
The show, which won four Tony Awards in 2014, took me a bit to get into but once I did, it's a tremendously fun, sad and eventually uplifting thing to witness. Credit to director, Tony Award winner Michael Mayer (Spring Awakening), for that. And with a book by John Cameron Mitchell the script is made so Hedwig (Morton) can riff to the audience and it makes the show feel incredibly current and alive.
The set is a hue of pinks, reds and blue and it's so vivid, it pops right off the stage. It also helps because of the massive damage that is The Hurt Locker set (featuring half of a car plowing through the middle of the stage), which makes it feel more punk rock, like they just took it over in a heist. There's also a segment where a black scrim comes down in front of the set and images are projected onto it, giving the whole stage a very cool 3D effect.
The music and lyrics, by Stephen Trask, is pure 80's all the way, with glam-rock thrown in and it'll seep into you so you're singing it to yourself on the way home. My favorite being the final number, Midnight Radio. It's a beautiful number and Morton and Corneau kill it. Especially Corneau, who is making her Broadway national touring debut. She's got a belt on her and every note that comes out is perfect.
For tickets and more info on 'Hedwig and the Angry Inch': Broadway San Diego