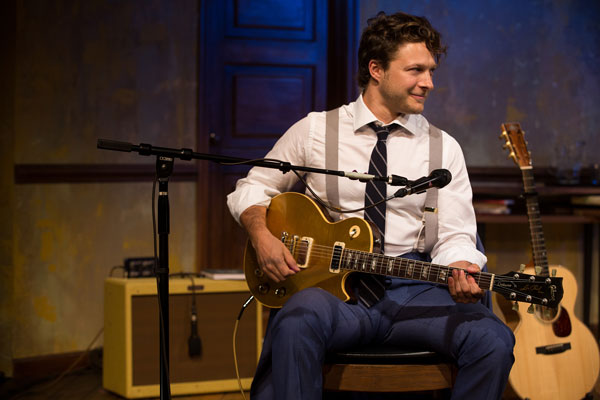 "Truth gets revealed when you are broken and healed," Scheuer sings. "Every heart is made stronger by scars." While that may be true, not everyone finds liberation by turning those scars into a moving and good humored show. THE LION is an autobiographical show told through song in this one man, one act performance. Benjamin Scheuer is the singer, song writer, and subject as he reflects on his life up until this point.
Scheuer has a boy next door charisma, golden boy good looks, and a winning smile that draws the audience in as he pours all of himself into these folk and pop style songs. The show kicks off with a fun childhood memory of his father making him a "Cookie Tin Banjo" so Ben can play music along with him. It is clear that the guitars and the music are the thing that he and his father could connect through. This relationship is key as it gives him the gift and love of music, but also was fraught with some more disconcerting moments. When his math professor father dies when Ben is 13, it leaves him, and his mother, and brothers in new and unexpected circumstances as they cope.
After a brief stint in England, Ben travels to New York where he grapples with love, learning how to communicate and connect, and unexpected health issues. While it sounds like this could be heavy, the show is incredibly entertaining even with some heavy topics, and dare I say, it's fun.
This is a one man show but his costars are the 6 guitars (all but one, acoustic) and the playing and the music is beautiful. After starting off with a sweet folk song and then transitions into some more reflective folk , jazz, and bluegrass inspired songs. The occasional funny or angst filled song in the mix keeps everything lively. "Laugh" is a delightfully sweet song about the first stages of romance, and one any person would like written about them. "Dear Dad" is a touching song that puts into song the letter that will never reach its intended recipient. "Weather the Storm" is one of the best songs as he ponders how to get through these trials and misfortunes and able to maintain his sense of self, security, and remain optimistic. The title song, "The Lion" asks what the main source of strength for the king of beasts, and by the end of the show both Ben and the audience find out what "makes a lion a lion."
This show is a celebration of life; his, his father's, his families, and the life that is yet to come. The subject matter and the songs may cover emotional material, from joyful to heartbreaking, but it is never bogged down by a sense of self-pity. Like Scheuer and his songs, this play maintains a rhythm and momentum that keeps everything moving and engaging.
Scheuer brings something unusual for his (and my) generation of entertainment, an absence of snark to this emotional material. This is the reality show confessional that never makes it on air, but that everyone needs to see. It's honest, passionate, and moving. Go hear this lion roar.
THE LION is playing at The Old Globe until October 30th. For ticket and show time information for to www.theoldglobe.org