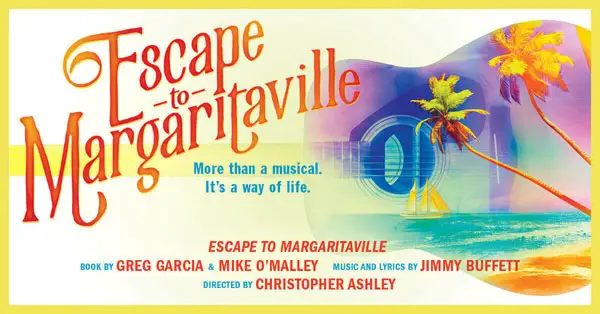 Welcome to Margaritaville – a place filled with color, lush foliage, steel drums, guitar, and lots (lots) of alcohol. Drawn in the sun bleached and tropical colors that Jimmy Buffett songs bring to mind, ESCAPE TO MARGARITAVILLE offers you a chance to visit and try to find your lost shaker of salt.
The show, like the drink you get from a mixologist instead of a bartender, this show is a dressed up version of something you've seen before. In this case it's a boy meets girl love story told using nearly two dozen Buffett favorites along with a couple of new songs.
The plot is pretty straightforward; Rachel (Alison Luff) and Tammy (Lisa Howard) go on vacation so Rachel can do some work research and to celebrate Tammy's upcoming nuptials to her thoroughly terrible fiancé. They meet up with a wayward island singer named Tully (Paul Alexander Nolan) and his bartender friend Brick (Charlie Pollock) who work at their hotel. The hotel is run by the island gossip Marley (Rema Webb) who is also doing her best to keep J.D. (Don Sparks) an older beach bum from losing items (since he has an eye patch ) or from bothering her guests too much. Throw in the surf, the sand, and a volcano and you have most of the major elements.
There is fun and energetic choreography by Kelly Devine helps keep everything moving along briskly as they dance on a beautiful set designed to inspire you to book a plane to the tropics immediately by Matthew Herman.
Paul Alexander Nolan has a Southern drawl, a guitar, a charming smile and does his best to make Tully something more than an island lounge singer. Alison Luff as Rachel has a great voice and has a lot of fun trying to convince her friend not to get married while she fails to succumb to Tully's charms.
Lisa Howard is fun, has a killer voice, some great comic timing, and looks adorable when singing to a cheeseburger (it makes sense in the show, I swear). Charlie Pollock's Brick is sweet and funny and Pollock tries his best to sell the idea of tap dancing zombie insurance agents (again, makes sense in the show, sort of).
There is a lot to recommend in this show – strong performers, good voices, beautiful sets, and of course, the music. The name is a dead giveaway; Jimmy Buffett's music is the main star here. Every time a chord was struck the audience at our showing went into an excited tizzy as they recognized what was to come. Singing along is encouraged at points, but the audience my night decided to sing along the entire time.
Yet, the show does suffer from some issues that seem to come up a lot with jukebox musicals – how to connect the songs in way that makes sense?
With songs so beloved it's easy to see why some plot development has to be sacrificed to make room and make sense. It is clear that some inventive angles had to be thought of to fit in songs like "Grapefruit – Juicy Fruit" that feel more like filler put there to get a grin out of the audience instead of moving the story along. The conflict of the show gets wrapped up fairly quickly, and with little actual tension, so we can get to another Buffett song.
Like the frothy foam on the top of a drink, this the plot also dissolves away as quickly as it appeared.
Unfortunately, the biggest issue this show seems to have is that the character sketches wouldn't fill a cocktail napkin. While a tropic musical misadventure doesn't require great character arcs, these are little more than caricatures. Even more distressing is that the lead characters of Rachel and Tammy are less developed characters than any of the male characters.
Lisa Howard deserves better than this thinly drawn character that is only able to validate her self-worth as long as she has a man by her side. Luff's Rachel seems to fare not much better since she gives up most of her identifiable characteristics while on the island (and blows off her research) and only gains back her personality when the vacation is over. She then gives up any semblance of a relationship in order to pursue her goals…since no woman in the history of the world could balance a relationship and a career. (To be fair, her ten year plan was achieved in 3 years, so I guess that's something)
The audience on my night though was there for silly, escapist, fun with a little karaoke thrown in – which this does supply provided you grab a margarita on your way in from the lobby or don't think too hard. By the ticket sales and extensions of performances through July 9th it looks like lots of people are looking for that same escapist mindless good time.
I can't say that I blame them; I do love a silly and diverting fantasy at the theatre. Unfortunately, I personally found this all added up to a drink that I would have sent back to the bartender.
ESCAPE TO MARGARITAVILLE is playing through July 9th at the La Jolla Playhouse. For ticket and show time information go to http://www.lajollaplayhouse.org