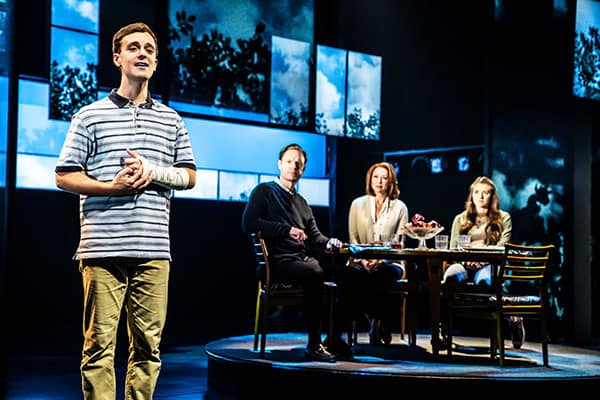 The original Broadway version of Dear Evan Hansen what's one of the best shows I've seen in a while. The cast, which starred Ben Platt, Rachel Bay Jones, Jennifer Laura Thompson, Laura Dreyfuss, Mike Faist and Michael Park, we're absolutely outstanding and the show was perfect in every way. Leaving that theater it was hard not to feel emotionally drained.
The touring version of the show, which is currently playing at the Civic Theatre, feels like a carbon copy of the original show. Still good, but not quite as crisp and clear.
Evan, played by a terrific Steven Christopher Anthony, is a lonely high school kid. He's got no friends and his mom (Jessica E. Sherman) is either working or taking night classes, so she's rarely home. His therapist (and Mom) is forcing him to write letters to himself hoping to boost his self-confidence, hence, 'Dear Evan Hansen…'
Evan has just printed out send letter when Connor (Noah Kieserman), the school bully finds it, thinking Evan has written it about his sister, Zoe (Stephanie La Rochelle).
When Connor takes his own life, his parents (Claire Rankin and John Hemphill), find the letter and think it's his suicide note. The parents confront Evan, and wanting to help, lies that they were friends. And with that, he begins his house of cards and the audience is just waiting for it to come crumbling down.
Director Michael Greif, who also directed the Broadway version, keeps things moving. He's helped immensely from the outstanding songs of Benji Pasek and Justin Paul, who also wrote the tunes for Hugh Jackman's, The Greatest Showman. From 'Waving Through a Window' to 'You Will Be Found', each song will live with you way past the performance date. And each actor delivers the goods in their own powerful way.
The story has a deep social media presents and David Korins set reflects that with streaming images of Twitter and Facebook flooding throughout the background.
Dear Evan Hansen is playing at the San Diego Civic Theatre through January 12th. For more info: Broadway San Diego