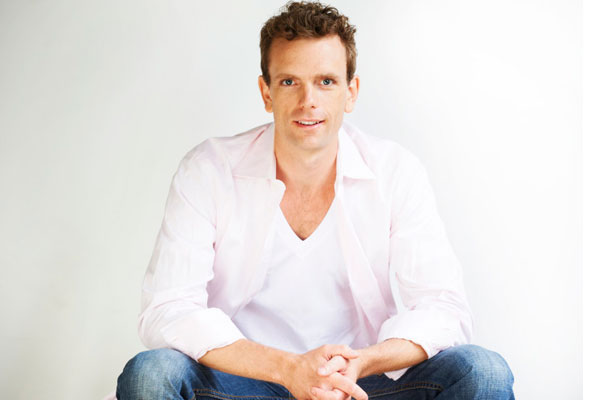 "It takes time to get stuff in your blood and to a place where you feel like you're not just in a room surviving and trying to remember lines" – Paul Alexander Nolan on auditioning
I first saw Paul Alexander Nolan as Jesus in the La Jolla Playhouse production of Jesus Christ Superstar and he blew me away. His vocal range is incredible, you kind of just sit back and marvel at what you're hearing. That show brought him to Broadway and since then, he's been working pretty much non-stop: on Broadway, he was in Doctor Zhivago and Once, Daddy Long Legs Off-Broadway and Yoshimi Battles the Pink Robots at the La Jolla Playhouse, just to name a few.
Now, he's back on Broadway in Steve Martin and Edie Brickell's new musical, Bright Star. Paul, who plays Jimmy Ray in the show, told me that he "can't say enough good things" about working with Martin and Brickell. Martin, he said, is really "serious, serious, serious about the work and only wants the show to be great and he's been very generous to me."
I talked with him recently about Bright Star and working with the "genius" Steve Martin, how to lead a normal life while working on Broadway, his worst audition and the show that made him want to become an actor.
Follow Paul on Twitter and check out his website. For tickets and more information on 'Bright Star', click here.
I saw you in Jesus Christ Superstar at the La Jolla Playhouse.
Paul Alexander Nolan: Oh, did you?
Yeah, you were terrific. And then I was racking my brain because I knew I saw you in something else and then I finally figured it out, it was Yoshimi, again at the La Jolla Playhouse. I loved both shows, but, man, Yoshimi was terrific.
Paul Alexander Nolan: So creative. I have a feeling they're still trying to figure out what to do with that because it's very unusual. I just love creating that it was so much fun. I love the Flaming Lips, they're so whimsical. I had a blast doing that show. I just had so much fun. I hope that they can figure out what to do with it. I don't know if they're gonna bring it to Broadway but I hope they do something with it, even if they go over to Asia.
You got a phenomenal voice, by the way, holy crap.
Paul Alexander Nolan: Oh, thanks.
I also saw Bright Star when it premiered at The Old Globe. I know you weren't with it then, but besides the cast, were there any major changes since then?
Paul Alexander Nolan: Yeah, I think that there's been quite a lot of rewrites, new songs, deleted songs, replaced songs. Perfecting some of the dialogue. Some of the characters are gone from that version of the show. They just been fine-tuning it since then.
Luckily, there was an opening for me to come do it. I read the script in June of last year, maybe it was May? And I thought, "I have to do this." I felt as drawn to it as I did to Once. I did the last year of the run on Broadway, playing Guy. And when I saw Once, I was so moved and it was one of those affirming shows that made me proud to be an artist. And lo and behold, two years later I was doing it. I was doing Superstar on Broadway when I saw it. But Bright Star, I had the same response just to the script alone. So I'm really so glad to be part of it.
How did you get to be a part of it? Did they ask you to audition or were you pursuing it?
Paul Alexander Nolan: They were looking for someone for the part and, I'm sure you know, they send all these breakdowns to agencies and your agent suggests certain actors. They did and probably said, "Yeah, he looks like the right kind of person." Once in a while you have someone pick you out personally because they've seen you do something and they think they are probably right for their show. I always like to think that happens with me but who knows. [laughs]
But I did three auditions over the course of three or four months and landed on my feet, so that's good.
I've gone to the EPA auditions, but I've never done like an actual true Broadway audition. When they say, "Hey, we want you to read for this part," do they give you the sides and some of the music and then you take the initiative to go work on the music with somebody?
Paul Alexander Nolan: Yes, absolutely. Once in a while you'll do a cold read of something, but not usually.
Often it works exactly how you just described. You get the music, you get sides in advance and then you prepare those. Some people are faster at preparing than others, I'm one of those that are slower. I like to have three days. If there is a reasonable amount of material, if I can have three days, I usually can pull it off. I would love to have a week depending on how much material there is.
But it takes time to get stuff in your blood and to a place where you feel like you're not just in a room surviving and trying to remember lines when you're in there.
You guys did a run at the Kennedy Center right? I grew up in Maryland so I used to go there all the time to see shows.
Paul Alexander Nolan: It was great there. It was nice to get out of town, it helps you work some stuff out in a far more relaxing environment then New York. DC is not only pretty but it's quiet, so it was nice to have some space and quiet while you're down there doing that. And then of course, because you're out of town, you tend to be fairly focused on the work and not distracted by things that normally might distract you. It was great. And the Kennedy Center is beautiful and iconic, so it was cool. It was really cool experience.
How is Steve Martin to work with?
Paul Alexander Nolan: He's a very generous guy. Obviously, he's a genius. What I found with Steve is that he can be in a room but he doesn't make the room about himself, he can still do the work. I would imagine celebrities have a tough time because they step into the room and everybody is aware of them. That sounds like my personal nightmare. I actually love being on stage, but I don't love not being able to choose when people notice me and when they don't.
But yeah, he never makes the room about himself. He really is serious, serious, serious about the work and only wants the show to be great and he's been very generous to me.
I would think if I were lucky enough to work with him, I'd be staring at him like a mental patient thinking, "Oh my God, Steve Martin talking to me."
Paul Alexander Nolan: Well, strangely that was kind of an afterthought for me. It was so normal to just talk about the work with him, because for him it really is about the work. And then you think about it later, it's like, "Was I talking to Steve Martin? That's the guy from the films that I was obsessed with when I was young." This isn't a regular celebrity, this guy's been around for five decades making comedy and music and he's always at the top of his game. It's probably undisputed that he's been, if not the most successful comedian of his generation, he's among the top five. I can't say enough good things about him and Edie. Edie is this gentle and beautiful spirit and she's just so talented.
She's got an amazing voice too.
Paul Alexander Nolan: It's such a genuine voice, she's just genuine.
Can you tell me about your part?
Paul Alexander Nolan: I play Jimmy Ray Dobbs and Jimmy Ray is the son the mayor of Zebulon in the 1920s. He's romantically involved with the shows heroine, Alice Murphy, played by Carmen Cusack.
A big part of Act I is about the development of their relationship and what goes on with them. He gets her pregnant and a big part of the story is how that affects them and their families and their futures. The story is split between 1920s and the 1940s.
How do you balance starring in a Broadway show, and leading like a normal life? I'm sure you're always read about your voice and not getting sick but yet you want to go out and do things as well during the day or after the show. How do you balance that without driving yourself crazy?
Paul Alexander Nolan: That's the other side of the job, I find. It takes a while to find it. Making theater is like giving birth or something. Every single bit of my attention goes into being able to do that and once you've kind of done it for a while, you get to kind of relax and try to have a real life again. And so that really does become a big part of the job, trying to figure out how to not always be doing the job or doing things that lead to the job.
I mean, we're on stage for two and half hours with the audience, but there is a lot of work, obviously, that goes into preparing to be there. Such as making sure your voice is healthy, making sure your bodies healthy. So, eating well, going to the gym.
If you're in a particularly stressful show, not talking too much. I tell you, it doesn't sound like a big deal but it's frustrating. I'm not a huge talker but I like talking with my wife and it's frustrating when she's talking with me and I can't talk back. I haven't had to do that with this show, but there have been roles where I had to be a little bit more protective of myself when I wasn't on stage.
But yeah, that is a big part of what we do. Some people have an easier time with it than others. Honestly, how to get rest is a big part of it. Eight shows a week for an indefinite period of time is a lot.
I want to talk about your background a little bit. You saw Les Miz when you were a kid and that made you want to become an actor? What was it about the show?
Paul Alexander Nolan: It was because identified with the kid playing at Gavroche. I was 13 but I was a shrimp, I was just a little shrimp of a kid. I'd done community theater but I never realized until I saw this young person in a professional, amazing production of something and when I saw this little kid come out, I had this like total 'a ha' moment where I realized, "that's what I'm gonna do." So, it was just simply that identified with the young actor playing Gavroche.
You left acting for a year right before you did Jesus Christ Superstar?
Paul Alexander Nolan: Well, no, actually. I left for about a year in 2004 and then half of 2005. I didn't intend to come back to acting. But I came back from this pilgrimage essentially in Spain and I had spent the whole year during various jobs. I did some landscaping work in British Colombia, I was out there trying to get on the forest fire fighting teams for the summer, which was something that I really wanted to do. The fire service didn't want to interview me in the end because they had so many applicants that they started screening out people for really silly things. But they could afford to do it because they couldn't see 5,000 people for the job. So, I worked on my family's farm in Saskatchewan, Canada for a couple months and then I went and did some volunteer work in St. Lucia. I think I did a few industrial jobs as a singer and ended up in Spain for six weeks.
When I got back from there, had I not met a woman before I left, I probably would've bolted back to British Columbia. But I stayed in Ontario to see what happened with this relationship. I was in a production of Jesus Christ Superstar, but that production was not at Stratford. I played the role three times and that first time was at a summer playhouse called the Sunshine Festival in Ontario. I played Jesus three times which is weird. I probably am done playing Jesus but who knows? The second time was in Calgary and then in 2011 at Stratford.
What was the worst audition you've ever been on?
Paul Alexander Nolan: You know what, I can honestly say one of the worst was my second audition for Bright Star. I was so nervous.
I had a great first audition. I don't particularly think I audition well but once in a while I just understand the material, at least I think understand the material, and sometimes right off the bat and I feel very comfortable in the style. And Bright Star was one of those times. So, I did great first audition.
But there was no rush for them to cast. So, all the producers, all the writers, the director, the choreographer, everyone was able to get back together in September of last year. That's when they needed to see me again. I was in the middle of teching an off-Broadway show called, Daddy Long Legs and that's a two-hander musical that's two and half hours. It was just me and Megan McGinnis singing and talking for 2 ½ hours. I had 12 days of rehearsal with the director, 14 days of rehearsal altogether. And to do 2 ½ hours of dialogue and music in that short amount of time was, needless to say, one of the most stressful professional things I've done.
So, I was in the middle of that and they asked me to come in and audition again. And all of the material was the same and I knew it, but I was just totally not ready to be in that room because I was completely distracted by all the other things going on. It was a very hot day and I was sweating when I got there. I was just a hot mess.
I got in there and I was just so nervous. I took my guitar there to play and I played a song that I know that I played at least 500 times. It's a song that I played in Once and I did 410 performances of that show plus all the times I spent rehearsing it. So, I know I've played that song probably 500 times. And I could not remember the cords. I was so nervous. I was just all over the place. It was awful.
But I think they just kind of erased that from their minds and brought me back in a third time. They brought me in a couple weeks later and I was ready because I was already through the hard part of my schedule for Daddy Long Legs and I think I did a fairly good audition.