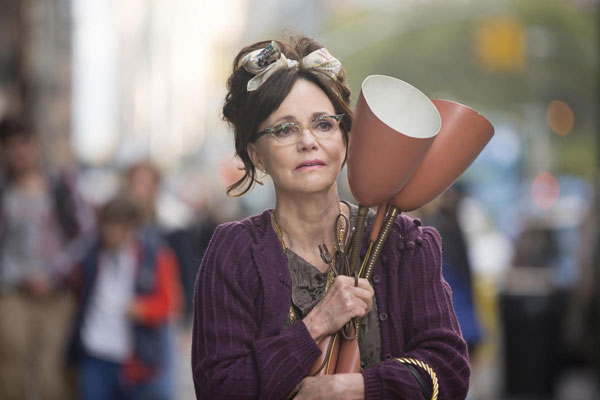 I don't know how this would be possible, but if you weren't already smitten by Sally Field, I dare you to watch Michael Showalter's new film, Hello, My Name is Doris, and not be completely in love with her at the end of this charming film.
Doris (Field) is a 60-year-old woman who's been taking care of her mother for most of her adult life. When her mother dies, Doris finally gets to live her own life, but after having been isolated for so long, she finds that it's a tad bit difficult to get out there in the real world. After she attends a self-help seminar, she becomes inspired to live her life to the fullest, which includes romantically pursuing her much younger co-worker, John (Max Greenfield).
Her pursuits include dressing like a teenager (in a hilarious, yet totally cute florescent outfit), pretending to love electronica and even going to a concert to 'accidentally' run into John. All this is happening while her family, including the fantastic Tyne Daly, thinks she's gone off the deep end.
Turns out with all this new found freedom, Doris, as she says, is "having the time of her life." And just watching the film, we totally feel that as well. It's almost like she's squeezing all of her lost time into as many moments as possible. Even through some cringe-worthy moments (Doris becomes a bit obsessed with John), we still love that she's finally breaking out of this self-induced shell.
And it looks like Field is also having a blast as Doris. She runs the gamut from funny, ambitious, cunning, sad and distraught and Field is having a heyday here.
The film, also starring Wendi Mclendon-Covey, Stephen Root and Natasha Lyonne is amazingly sweet. It's ultimately about acceptance and finding yourself, no matter how old you are. And I bet you'll love it.