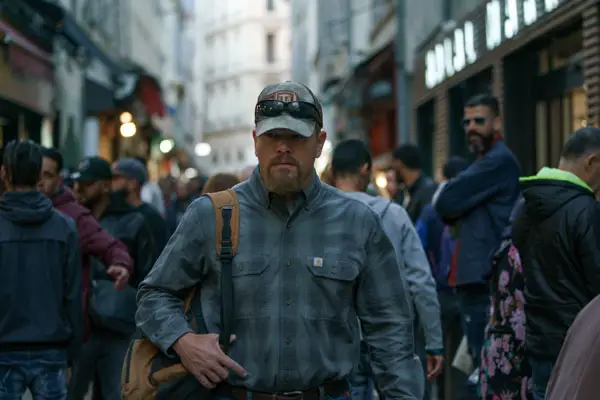 I don't think Tom McCarthy has ever made a bad film. Yeah, some are better than others, but as a whole, his directorial efforts have been pretty great. From his first film, The Station Agent and The Visitor, Win Win and Spotlight (which he won an Academy Award for Best Screenplay), each story has explored something different and new. His latest, the terrific Stillwater, sticks with that.
Matt Damon stars as Bill Baker, an oil-rig worker from Stillwater, Oklahoma. He's one of those mostly stoic, silent types with little education, got married and had a daughter at a young age. When the story begins, he's flying off to Marseille, France, to visit his daughter, Allison (Abigail Breslin), who's in prison for a the murder of her girlfriend. A murder she's adamently saying she didn't do. And by their interactions, you can immediately tell that they don't have the closest of relationships but hey, he's trying.
During one of his visits to the prison, she gives him some information that might be able to help her case, but her lawyer says nothing can be done. So, desperate to help his daughter, he decides to investigate the lead on his own. Not able to speak the language, he gets help from
Virginie (Camille Cottin), a local actress he randomly met at a local hotel. The two strike up a friendship, and as his search continues, she invites him to live with her and her young daughter, Maya (an extremely talented Lilou Siauvaud).
Soon, he's somehow found himself in a new life; reconnecting with his daughter, getting closer to Virginie and becoming a father figure to Maya. But when Allison, on a day pass from prison, tells Virginie that her father is, like her, a f— up, we are just waiting for the other shoe to drop.
And yeah, boy does it drop. The new life that he's fallen into – and that he didn't know he wanted – is quickly going to hell.
The real story though is about Bill and how this Parisian city is slowly transforming him into an actual thinking and feeling person. Back in Stillwater, he was a shell of a man, going through life and just existing. Here, he's attempting to win back the love of his daughter while also forming a relationship with Virginie and Maya, to the point where he's become like a father to her. You're routing for everything to work out, even though you know it won't, that it can't.
Damon is absolutely wonderful. It looks like he's transformed himself into a big, thick spark plug of a man. His jeans are pulled up too high and he talks in an almost guttural way. But as his relationships with those three women in his life evolve, so does everything else. The way he talks, walks and his whole demeanor changes. And the real standout is Siauvaud. She's cute as a button and will knock your socks off every time she's on-screen.