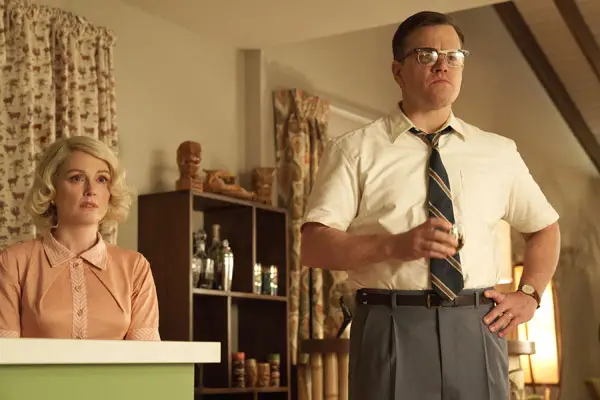 Surburbicon is the best Elmore Leonard movie that's not written by Elmore Leonard. It's probably even better.
The film, which starts off as a slow burn and eventually turns into a full on four alarm fire, opens with a young black couple and their child moving into an idyllic neighborhood called, Surburbicon. We then meet their next door neighbors, Gardener Lodge (Matt Damon), his paralyzed wife Rose (Julianne Moore) and her twin sister, Margaret (Moore again, pulling double duty) and their young son, Nicky (Noah Jupe). Damon is an executive in some nondescript company,  while the ladies stay home because it was, you know, the 50s.
Late one night, two thugs break into their house, gather them together and calmly push chlorophyll onto their faces til they pass out. When the son wakes up in the hospital, he finds out his mom has died and his aunt will now come to live with them.
The police pick up a couple of suspects but when Lodge and Margaret go to identify them, they don't recognize a single suspect. When Nicky, who snuck into the interrogation room and recognizes the two robbers, confronts his dad, things start to not add up for the boy.
Turns out the Lodge and Margaret are in cahoots with them.
All this is happening while the lily white community of Surburbicon is flipping out over the black couple that has moved into their peaceful neighborhood. Each day it seems, more and more of their neighbors are gathered outside of their house becoming unruly.
And just like in Elmore Leonard novel, the stories don't come together as much as they feed off of each other.
What's funny is that while all of the neighbors are worried and attacking the new neighbors – the innocent couple who've done nothing wrong except buy a home – right under their noses, the Lodges are doing the worst of the worst.
Damon plays Lodge as someone who thinks he's smarter than he actually is and it's fun to watch him unravel throughout the movie. Moore's Margaret is a more human version of a Stepford Wife, but just barely. And less smart. Oscar Isaac kills it as a sly and skeevy insurance adjuster. It would have been fun to have more of his character in the film though.
George Clooney, who also co-wrote the film with the Coen Brothers and Grant Heslov, is such a fine director that it's almost a shame that he doesn't do it more often.