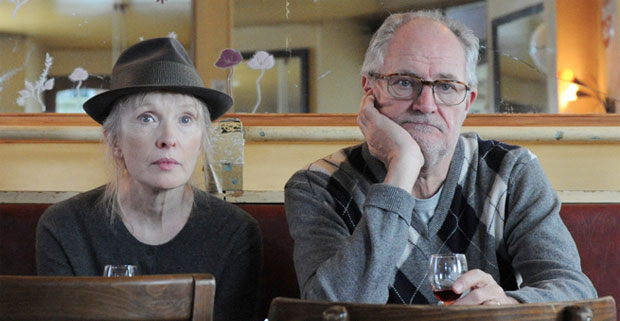 Roger Michell was the director of one of my favorite movies, Notting Hill. And before you can say it yourself, I'll say it for you: Yes, I'm a big girl. Notting Hill is one of the best romantic comedies ever and because of that, I'll watch anything Michell directs.
His latest film, Le Week-End, is something we don't see a lot of anymore: a smart, adult film about an older couple trying to celebrate their anniversary with the magic of Paris.
The always terrific Jim Broadbent and Lindsay Duncan play the couple who revisit the city of lights for the first time since their honeymoon. Broadbent's Nick is the level-headed of the two. He worries about money (Paris is a "brilliantly designed machine to part with" their money, he says at one point) and is so obviously the one who has kept the marriage together for so many years. Duncan's Meg is laissez-faire about everything, demanding and definitely ready for a big change in her life.
Nick has come to rekindle their romance while Meg, it seems, has the exact opposite thoughts. When they run into old friend Morgan (Jeff Goldblum), who invites them to a fancy gathering at his apartment, both of their feelings finally begin to come out in the open.
Broadbent is one of the best around. He's the type of actor that can say a hundred things with the arch of an eyebrow and by simply uttering the word, "huh?" His Nick is hopeful and a dreamer, one time thinking he could retire and move to Paris and become a painter… while Meg is right next to him shooting him down. She'd rather die than see him happy it seems. It's almost like her happiness comes from making him unhappy. Meg is bored with life and bored with him and most of the time, she's just plain mean to the poor guy. I suspect it's because she knows that deep down, he's not going anywhere.
And it's sad because we can see it in Nicks eyes how beaten he is at this point. But when Jeff Goldblum arrives as Morgan, Nick starts to come alive and it's a wonderful thing to watch.
By the way, why is Jeff Goldblum working more? He's freakin great.
Broadbent and Duncan capture the life of a this long-married couple brilliantly and with the masterful hand of Michell, this was a joy to watch.
Director: Roger Michell
Cast: Jim Broadbent, Lindsay Duncan, Jeff Goldblum