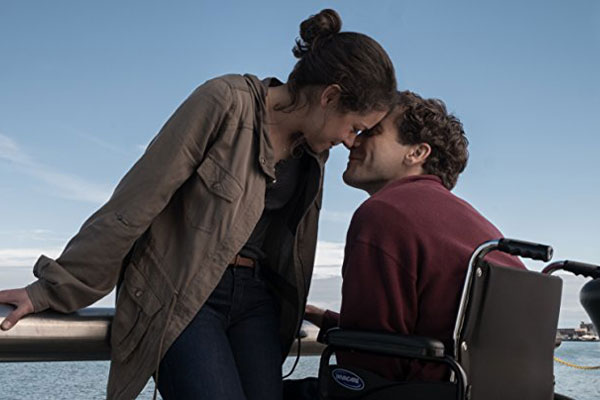 If there is any doubt that Jake Gyllenhaal is one of the best actors working today, then you should see his new film, Stronger, the story of Jeff Bauman, immediately.
Bauman is the 2013 Boston Marathon bombing victim who lost both of his legs on that tragic day. The famous image, him lying on the ground with his legs missing, became a symbol of the tragedy. On top of that, he helped identify one of the bombers.
Gyllenhaal plays Bauman as an everyman, working his job roasting chickens at the local CostCo and more inclined to stay for one more beer at his neighborhood bar then show up somewhere on time. He's quick with a one-liner, especially when he's trying to cover up for some screw-up.
Director David Gordon Green, working from a script by John Pollono, is more focused on treating Bauman like a person rather than a hero of circumstance. Bauman was living his life, going to work, living with his divorced alcoholic mom when his life changed. Trying to win back his girlfriend, Erin (Tatiana Maslany), he makes a sign to display near the marathon's finish line. He cuts through the crowd and makes his way to the front to wait. Green cuts to Erin and we see the explosion in the distance, her face says everything. It's jarring but works perfectly. We know what happened and to see it through her face. It's these little moments that say everything to Green.
Bauman then wakes up, missing his legs. It's sad and horrible – especially when they eventually need to redress the bandages – but Gyllenhaal as Bauman is quick to bring humor. Almost like it's too painful if he doesn't.
With the help of his family (including the fabulous Miranda Richardson as his mother), his on and off again relationship with Erin and their unexpected pregnancy, Bauman's finally learns to walk again with the help of some hi-tech prosthetic legs.
Maslany is teriffic match for Gyllenhaal. Smart and dedicated to Bauman, every look she gives him, even when they fight, is full of love and hope. And there's one quick scene where she opens one of Jeff's drawers and stares at his no longer needed socks. It's such a small quick moment, but it says everything. Danny McCarthy also deserves some recognition for his stellar portrayal of Bauman's boss, Kevin.