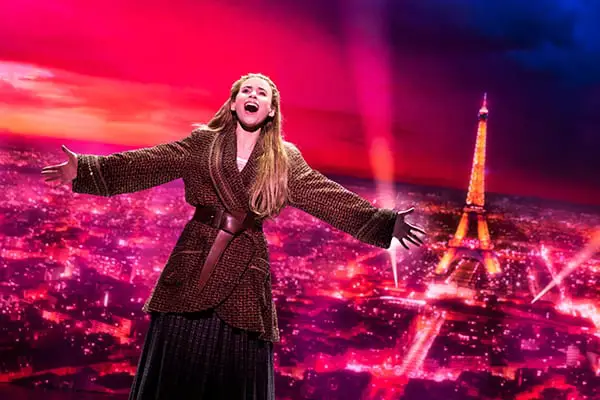 Looking at the Playbill for Anastasia, the musical that's now playing at the Civic Theatre, you'll most likely notice all the immensely talented people working on the production. From Tony Award winning director Darko Tresnjak (A Gentlemen's Guide to Love and Murder), Tony Award winning writer Terrence McNally (Love! Valour! Compassion!, Master Class) and Tony Award winners for music and lyrics Stephen Flaherty and Lynn Ahrens (Ragtime, Once On This Island), your first thought that goes through your mind might be, "Wow, this should be good."
And, yes, it's really good.
Anastasia (Lila Coogan) is about a Russian princess who's family is murdered by the Czars. She escapes, but with complete memory loss of who she is and where she's from, and ends up living on the streets. When she meets up with a pair of schemers, Dmitry (Stephen Brower) and Vlad (Edward Staudenmayer), who have cooked up a plan to be rich beyond their dreams. It seems Anastasia's aging grandmother, the Dowager Empress (Joy Franz) has a reward out to anyone who can find her missing granddaughter. Now going as Anya, the two coach her up with every detail they can find about Anastasia in hopes that they convince the Empress to think she's the real deal.
Except that she is the real deal. Eventually, her memory comes back and the two are reunited in one of the best scenes of the show. Tender and touching, and both Franz and Coogan milk each line and word for everything it's worth.
Staudenmayer as Vlad Blank crackles in every scene, and his love, Countess Lily (Tari Kelly) is just as good.
The performances, however, won't be the only thing you'll be talking about after the show. The physical set, which is basically just an arch, is benefited by multiple on-stage projections (courtesy of Aaron Rhyne, scenic designer Alexander Dodge and lighting from Donald Holder). It's honestly some of the best work you will ever see in a show. Each projection is 3D-like and so immersive that you almost feel like you can reach out and touch it, no matter where your seats are. They're vivid and full of colors and it's just perfect. There's a scene set in a railroad car and as the railroad car turns back and forth, left and right, the projection behind follows and it's just flatout terrific.
As princesses go, Anastasia isn't the smartest of the bunch. In the widely told story – so nothing is being given away – she leaves a life luxury and riches behind to be with Dmitry, the man she loves. A terrible choice, really. Especially when the Grandmother would have let him stay with her. What's not a terrible choice is to see this wonderful show.
Anastasia is playing at the San Diego Civic Theatre through Sunday. For more info: Broadway San Diego