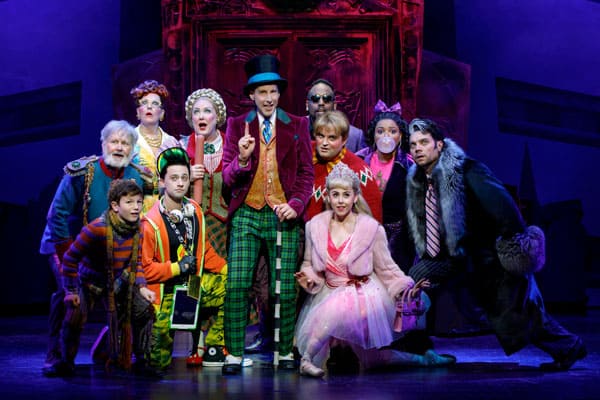 Get your sweet tooth out because the new Broadway musical, Roald Dahl's Charlie and the Chocolate Factory has just come to town.
The show, based on the book of the same name (along with a sprinkling of the 1971 Gene Wilder version and Tim Burton's 2015 film), tells the story of young Charlie Bucket (played alternately by Henry Boshart, Collin Jeffrey and Rueby Wood). Charlie lives with his hard-working mom (Amanda Rose) and both sets of grandparents, including his beloved Grandpa Joe (James Young), in a teeny-tiny house and his only dream is to win Willy Wonka's (Noah Weisberg) much ballyhooed Golden Ticket.
Once the first tickets are won – by the bratty Veruca Salt (Jessica Cohen), spoiled Violet Beauregarde (Brynn Williams), over-eater Augustus Gloop (a hilarious Matt Wood) and the bored and entitled Mike Teavee (Daniel Quadrino) – Charlie thinks his time has run out. Until, a local candy man (Wonka in a not-so-secret disguise) makes it possible for him to retrieve the last ticket.
Director Jack O'Brien (three-time Tony Award winner) and book-writer David Greig (and featuring music by Tony Award winner Marc Shaiman, lyrics by Shaiman and Scott Wittman), have updated the characters, turning Violet into a bubble gum chewing rapper, Veruca Salt a Russian debutante and Teavee a cellphone loving, social-media addict. Gloop is, well the same as in all the stories. But that's probably because the character is so great, why mess with him?
Eventually, the winners all get their just desserts except for Charlie, who finds out that being honest and true will always get you true rewards.
The show really kicks into gear when winners are introduced. There's energy and mayhem, especially when the full cast is on stage. But, the real stars of the show are the set, lighting and costume designers – Mark Thompson, Japhy Weideman, Andrew Keister and Jeff Sugg. The set, along with the lights, is all 3D imagery and brilliant colorful lights that enhances each and every scene. The costumes pop-off the stage, with their bright and vibrant colors.
Bring the kids because they'll love the show! But just be sure to have a bag of Everlasting Gobstoppers for the drive home.
Charlie and the Chocolate Factory is playing at the San Diego Civic Theatre through Sunday. For more info: Broadway San Diego