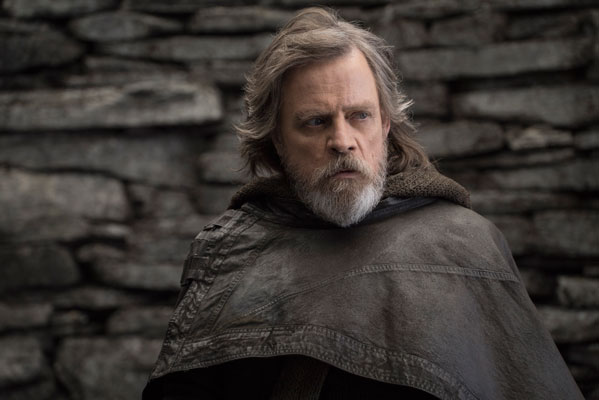 When the lights go down in the theater, John Williams's legendary music begins and the infamous scroll appears on the screen, it's safe to say that most movie lovers get incredible burst of excitement. They just hope that what they're watching continues that excitement for the next two hours. Some films in the series, like the prequels, have been huge disappointments, but not this Jedi. Writer-director Rian Johnson has easily made one of the best films in the series, with it sitting only behind A New Hope and The Empire Strikes Back.
Spoiling the movie with plot points and would be a huge disservice. Go in not knowing what's going to happen and you'll love it even more. That being said, Jedi follows the new cast of Rey (Daisy Ridley), Finn (John Boyega), Poe Dameron (Oscar Issac) and Kylo Ren (Adam Driver) along with Leia (Carrie Fisher) and Luke (Mark Hamill) as they try bring together the Resistance to dismantle the surging power the First Order.
Ridley will impress you even more here then in the first film. As the film progresses, Rey gets even more confidence and skill and she wears those well. It'll be great to see where they take her after this film. Boyega's Finn is actually the emotional heart of the film. He's willing to do anything to help Rey and the Resistance. It's actually nice to see a man be the emotional heart major fanboy film like this. But it's Isaac's Dameron who, of the new characters, steals the show. He's got that Han Solo-esque quality, more so then we saw in the Awakens.  He's willing to take on authority even though sometimes he might not be right. He's funny, charming and Isaac is terrific.
In Awakens, Kylo Ren was a whiny baby for most of the film and as the film progressed, he got more and more annoying. Driver and Johnson have given him more depth, intelligence and drive. And yes, made him more evil.
Hamill wears an aging Skywalker really well. It's been almost 30 years since we've heard him utter a word and when he first talks it's like an old friend coming back to town. Fisher's Leia is a big part of the story and it's sad knowing that she and Leia will no longer be around.
Johnson introduces us to new characters that bring even more diversity to the franchise like, Kelly Marie Tran as Rose.  And where in some of the previous films, the cute, toy-ready characters (Jar Jar Binks, Ewoks) were thrown down our throats and forced into the story, the Porgs and Ice Wolves in Jedi are not that at all. These little creatures fill out the story as opposed to being part of the story, which makes a huge difference.
Ryan Johnson deserves all the credit in the world for delivering this terrific Jedi to the storied franchise. Let's have him direct all of the other ones going forward, shall we?