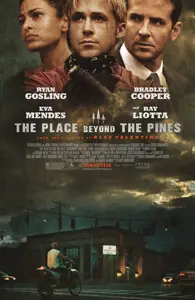 Derek Cianfrance's The Place Beyond The Pines is three movies packed into one. Think of it like a novel instead of a film.
The story begins with Luke (Ryan Gosling), a motorcycle stunt rider who's been traveling the country performing in county fairs. When he finds out that a former fling (Eva Mendes) has given birth to his child, he decides it's time to step-up and provide for his new son. He meets a former con who convinces him to help him rob a couple of banks. With his particular skill on motorcycles, it should be a breeze. And it is. They're pulling jobs left and right. The cops are quickly on the hunt and ambitious rookie cop Avery (Bradley Cooper) enters the scene. What follows next and throughout the story is a series of events that impact the lives of everyone involved for years to come. Corrupt cops, drugs, death; you name it. 
Like I said, the film is shaped like a big sprawling novel. But unfortunately, like some ambitious novels that start off extremely promising, they also tend to fall apart towards the end.
The first 2/3's of the film is absolutely fantastic. If Cianfrance, who's last film Blue Valentine (also starring Gosling) was outstanding, cut and wrapped the picture at that point, it would have been one of my favorite films of the year (so far).
But it doesn't. The last 1/3 of the film is absolutely frustrating. It has characters who I hated and one in particular, I wished would die every second he was on screen. These last set of characters are the products of all the events set in motion earlier so we are supposed to understand and sympathize but that was so far from what I felt. I disliked it and them so much, it left me with an awful taste in my mouth. It wasn't the actors performances in this section, they were perfectly fine. Maybe almost too good as to get me worked up like it did.
But saying all this, I actually think you should see the film because Gosling and Cooper are clicking on all cylinders.
Gosling is one of those tatted-up guys (complete with tear-drop tattoo) who when you see walking towards you, you immediately want to cross the street. You never quite know what he's thinking and that helps him have that aura of danger. His character could actually be a cousin to Driver, the guy he played in Drive.
Cooper gives, I think, a performance that's even better than the one he was nominated for in Silver Linings Playbook. He's the character we are with for most of the movie and as he ages (almost 15-20 years), we see a character who goes from good, honest rookie cop to someone who has lived in a system who eats those kinds of guys for breakfast.
The film is frustrating towards the end, yes, but as always, performances win out.
Also starring Dane DeHaan, Emory Cohen, Ray Liotta, Rose Byrne and Ben Mendelsohn