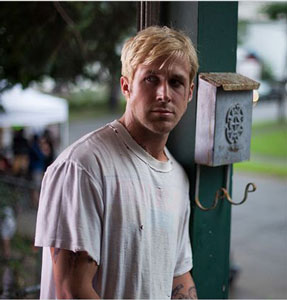 Ryan Gosling recently made an announcement that's sending shock waves throughout the female population—the heartthrob is taking a break from being in front of the camera.
"I've been doing it too much," he said in an interview with AP.  "I've lost perspective on what I'm doing.  I think it's good for me to take a break and reassess why I'm doing it and how I'm doing it.  And I think this is probably a good way to learn about that.  I need a break from myself as much as I imagine the audience does."
However, it seems that most moviegoers would disagree with the Oscar nominee (for 2006's Half Nelson) about the need for some distance from the screen idol.  But it's understandable that Gosling might need a break after turning out tons of star performances in films like Lars and the Real Girl, Crazy, Stupid, Love, Ides of March, and Drive.  Gosling claims he learned early on how to be an ensemble player—mostly from his days as a backup performer to Justin Timberlake and Britney Spears on The Mickey Mouse Club.  In fact, Gosling maintains that he prefers someone else to be the star of the show.  "There's a lot of pressure to be the lead of a film," he said.  "I have done it.  It's not my favorite way to work."
For his new film, The Place Beyond the Pines, Gosling was able to throw himself into the role, although he denies he's a Method actor.  "I don't know what I'm doing," he admitted.  "I haven't quite figured out what the balance is between being able to be lost in it—or try to, anyway—and then step outside of it."
One way that Gosling prepared for his role as a motorbike rider in a traveling circus was to cope with his character's face tattoo in the film.  "One thing that kind of handed me the key to the character was that I totally overdid it with the tattoos," the actor said.  "I said to Derek [Cianfrance, the director], 'I got to lose this face tattoo.  It's the worst.  It's so distracting and it's going to ruin everything.'  And he said, 'Well, I'm sure that's how people with face tattoos feel.  So now you have to pay the consequences of your actions.'  So I had to do the whole film with it and now see it on posters.  It gave me a sense of shame that I feel was inherent to the character."
In the film, Gosling appears alongside his real-life girlfriend, Eva Mendes.  Mendes isn't the first time Gosling has hooked up with a costar—he also dated The Notebook's Rachel McAdams and Murder by Numbers' Sandra Bullock.
"Working with someone is the best way to get to know someone, especially if it's a creative endeavor," Gosling said.  "When you work creatively with somebody, it's very telling and you sort of fast-track with everyone."
The Place Beyond the Pines opens in theaters Friday, March 29.